Updated 8-23-2023. Additional sites will open in the coming months and will be posted here.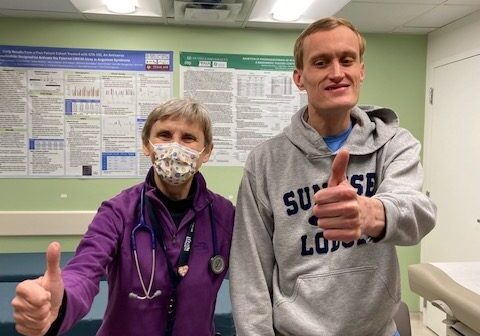 Tetra Therapeutics has launched large scale clinical trials of their phosphodiesterase (PDE) inhibitor for males ages 12-45 with Fragile X syndrome.
These trials mark a major milestone for community-based drug development. FRAXA Research Foundation's basic and translational research pointed the way to phosphodiesterase inhibitors to treat Fragile X many years ago. However, getting our hands on a good phosphodiesterase (PDE) inhibitor was a challenge, because there was so much interest in the pharmaceutical world in developing these drugs for Alzheimer's disease and other blockbuster indications.
Then FRAXA partnered with Tetra Therapeutics to test their advanced PDE 4D inhibitor in Fragile X mice, with remarkable results.
The results in the mice clearly justified clinical trials, so FRAXA and Tetra organized and co-funded the first Fragile X trials of this investigational drug. The outcome was a genuine breakthrough for the field: statistically significant improvement in Fragile X subjects on a wide range of outcome measures. Behavior improved, quality of life improved, electrophysiology improved, and most importantly of all, cognition improved markedly. There are no drugs currently approved to treat intellectual disability.
If the new trials are successful, our community could see the first approved treatment for Fragile X syndrome on the market.
Participation in this clinical trial may include reimbursement for expenses incurred.
UC Davis Health System
Davis, CA
Accepting males ages 12-45
Ellery Santos
ersantos@ucdavis.edu • (916) 703-0200
CHOC Thompson Autism Center
Orange, CA
Accepting males ages 12-45
April Soriano
april.soriano@choc.org • (714) 509-8300 x32683
Icahn School of Medicine
New York, NY
Accepting males ages 12-45
Venus Fan
venus.fan@mssm.edu • (929) 989-7016
Cincinnati Children's Hospital Medical Center
Cincinnati, OH
Accepting males ages 12-45
Ashley Tyree
Ashley.Tyreee@cchmc.org • (513) 517-1550
Tetra Therapeutics Initiates Phase 2B/3 Clinical Studies Of Investigational Drug BPN14770
Grand Rapids, MI – Tetra Therapeutics, a Shionogi Group Company, focused on the development of compounds for the treatment of brain disorders associated with cognitive and memory deficits, today announced the initiation of three Phase 2b/3 clinical studies of the investigational drug BPN14770 (zatolmilast) as a potential treatment for Fragile X syndrome (FXS), the most common genetic form of autism. A selective small molecule inhibitor of phosphodiesterase-4D (PDE4D), BPN14770 has shown positive results in a previous Phase 2 study in FXS in adult males (Berry-Kravis EM, et al. Inhibition of phosphodiesterase-4D in adults with Fragile X syndrome: a randomized, placebo-controlled, phase 2 clinical trial. Nat Med. 2021;27(5):862-870.). BPN14770 has also received Orphan Drug Designation from the US Food and Drug Agency (FDA) for the potential treatment of FXS.
The Phase 2b/3 studies comprise two separate 150 subject, randomized, double-blind, placebo-controlled studies: one in an adolescent male population (ages 12-17), one in an adult male population (18-45), and a third open label extension study open to patients in both populations at the conclusion of the primary study. Endpoints for the studies include cognitive and behavioral assessments of the efficacy of BPN14770 by a variety of standard tests and determinations of the experimental drug's safety and tolerability. The study will also gather pharmacokinetic data on BPN14770. The studies are being conducted at multiple sites across the United States lead by principal investigator Elizabeth M. Berry-Kravis, MD, PhD at Rush University Medical Center, Chicago, Illinois. The studies are expected to be conducted over the next two years. Additional information is available through clinicaltrials.gov (Identifiers: NCT05163808, NCT05358886, NCT05367960).
"We are excited to initiate these pivotal trials with BPN 14770 in patients with Fragile X syndrome, and are hopeful that the results of these studies will enable us to seek approval from FDA," said Chad Coberly, JD, Chief Executive Officer of Tetra Therapeutics."
"We are anxious to get started with these studies that offer hope for people living with Fragile X syndrome and their caregivers" said Dr. Elizabeth Berry-Kravis, pediatric neurologist, Rush University Medical Center, and principal investigator. "Given our previous positive results with BPN14770 in the phase 2 study, we are hopeful these studies at a larger scale will show similar results. I find it exciting that we have a drug that potentially corrects a core deficit in FXS, a decrease in cAMP, that has been documented in patients as well as in the fly and mouse models of the disorder."
BPN14770 is an investigational new drug that selectively inhibits phosphodiesterase-4D to enhance early and late stages of memory formation. Preclinical animal models show that BPN14770 has the potential to promote the maturation of connections between neurons, which is impaired in patients with FXS, and to protect connections between neurons which otherwise are lost in patients with Alzheimer's Disease. Tetra has completed investigational Phase 2 studies of BPN14770 in adults with FXS and in Alzheimer's disease. BPN14770 also has received Orphan Drug Designation from the US Food and Drug Administration (FDA).
Tetra Therapeutics, a Shionogi Group Company, is a clinical stage biotechnology company focused on developing a portfolio of therapeutic products to people suffering from Fragile X syndrome, Alzheimer's disease, traumatic brain injury, and other brain disorders. Tetra Therapeutics is headquartered in Grand Rapids, Michigan. For more information, please visit the company's website at www.tetratherapeutics.com.
Post Revisions
2023/06 - Updated with additional sites recruiting.
2022/10 - Updated as clinical trial now recruiting at first location.
2022/07 - Original grant post published.