We appreciate your support of FRAXA. In return, FRAXA assures you that all sensitive data and personal information involved in the online gift process is handled in a secure and private manner. We will not share or sell your information to anyone.
Donate Online

Giving online is fast and secure, and we will send you an acknowledgement. FRAXA Research Foundation has partnered with GiveDirect to securely process online contributions. GiveDirect covers credit card fees so 100% of your Visa, MasterCard, or Discover donation benefits FRAXA (Amex charges us a small fee).
Make your gift in honor of someone special and we will send a gift card in your name.
Now you can donate by texting!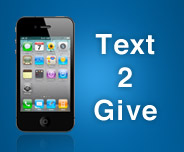 FRAXA's Text-to-Give #978 788 9198
Step 1: Text a dollar amount to the number. The text response will ask you to confirm the gift. Click the link.
Step 2: An email will open. Verify that the "from" address is the correct email and press send. First-time donors will be directed to a payment page.
Step 3: The donation is complete! A receipt is emailed.
Amazon Smile

Do you shop on Amazon? Here is an easy way for you to support FRAXA every time you shop, at no cost to you. You'll find the same prices and selection as on Amazon — and 0.5% of your purchase will go to FRAXA! Please go to smile.amazon.com every time you shop.
Giving Assistant
Donate to FRAXA Research Foundation effortlessly, often—and for free! If you want first dibs on deals like Macy's Coupons, or love saving cash at stores like Best Buy, Kohl's, Kmart and Lowes, use Giving Assistant. As much as 30% of your purchase price at 1800+ popular retailers are turned into valuable donations for FRAXA Research Foundation. Sign up today to find out how your everyday shopping can make a difference for us!
Stocks/Securities
FRAXA gratefully accepts gifts of shares. People can donate stocks and can realize great tax advantages this way. Stocks can be wired to
StockCross, One Washington Mall, Boston, MA 02108. Phone: (800) 225-6196. DTC: 0445
Account Name: FRAXA Research Foundation. Number: 10880094
Please let us know so we can be on the lookout for the transfer and thank you! Call Katie Clapp or Melissa Budek at (978) 462-1866 or email us for details. If you are interested in estate planning, we would be pleased to talk with you.
United Way

Look for us in your United Way campaign brochure or on your company's campaign website. If we are not listed, please write in FRAXA Research Foundation on your pledge card. Please include our IRS tax ID (04-3222167) and address (10 Prince Place, Suite 203, Newburyport, MA 01950).
Combined Federal Campaign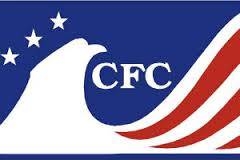 FRAXA is among the Best of the CFC! We are charity #10594. Please support FRAXA through the Combined Federal Campaign.
Stocks/Securities, and Estate Planning
FRAXA gratefully accepts gifts of shares; please call Katie Clapp or Melissa Budek at (978)462-1866 or email us for details.
Donate a Vehicle for FRAXA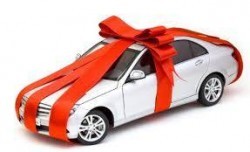 V-Dac donations accepts any kind of vehicle: cars, trucks, motorcycles, RV's, boats, airplanes, heavy equipment, farm machinery, to benefit FRAXA.
Donate by Check or Phone
You can also send us your check payable to FRAXA or call us at 978-462-1866. If you are interested in estate planning, we would be pleased to talk with you.
FRAXA Research Foundation
10 Prince Place, Suite 203, Newburyport, MA 01950
Email Melissa Budek at mbudek@fraxa.org or Katie Clapp, Executive Director, at kclapp@fraxa.org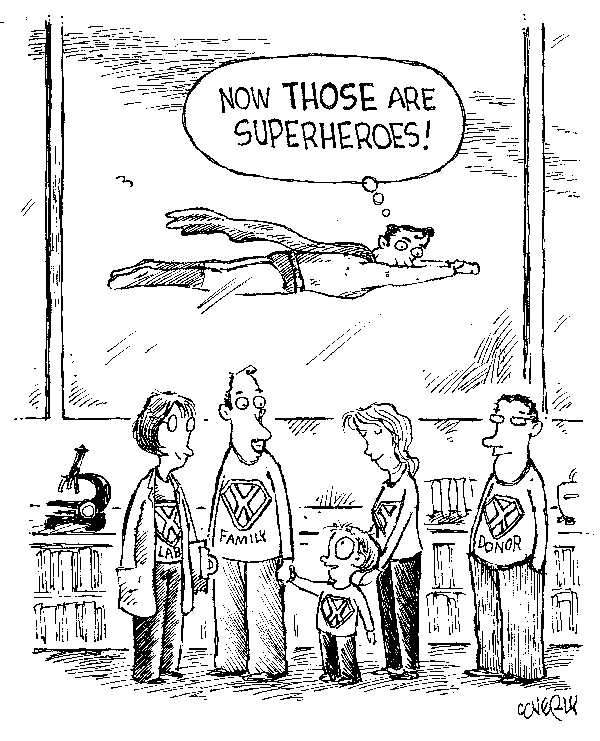 Be a Superhero!
Polio, cured — most everywhere.
Measles, yellow fever, whopping cough, smallpox, tetanus — the same.
Is Fragile X Syndrome next?
Depends on you. Your gift to FRAXA will help us deliver on our sole mission to find a cure for fragile X through groundbreaking research as well as to improve the lives of those with Autism, Parkinson's, Alzheimer's and many other disorders.
Giving to FRAXA makes it possible to
• continue promising breakthrough research, some now in late phase trials;
• support FRAXA-funded researchers in developing the critical seed research concepts private drug companies and government agencies will not fund; and
• offer fresh and real hope for advanced treatments and a better tomorrow!
Show how much you care. Show you support FRAXA researchers worldwide, who are in their labs right now testing, seeking, exploring, discovering — all thanks to your generous support. Show you are deeply committed to funding translational research — $25 million plus worldwide since our inception in 1994, yielding discoveries that are changing the lives of families coping with fragile X. Make the smartest fragile X investment. We're one of the world's most efficient charities, where management and general expenses are under 5 percent and a whopping 86 cents of every dollar is invested in research to find a cure for fragile X.
Why wait for a miracle? Be a Superhero. Give at FRAXA.org today.