Our sons with Fragile X Syndrome typically go to bed early and rise early.
Sometimes they jump on us while we are sleeping at 3 a.m., excited to start their day.
For heaven's sake, whY, wHY, WHY?
The answer may come from Carolyn Beebe Smith, PhD, senior investigator, Section on Neuroadaptation and Protein Metabolism, National Institute of Mental Health, National Institutes of Health, Bethesda, Maryland. She is studying why children, in particularly boys, with FXS have problems sleeping.
"We know sleep is important for many aspects of brain function," said Dr. Smith, who received a PhD from the University of London where she studied the chemical pathology of Alzheimer's for which she was awarded the Queen Square Prize. "In studies of healthy mice, we have shown restricted sleep during brain development can result in long-lasting changes in behavior. We are interested in understanding if sleep problems contribute to severity of symptoms in boys with FXS. Improving sleep is a simple and realistic therapeutic target."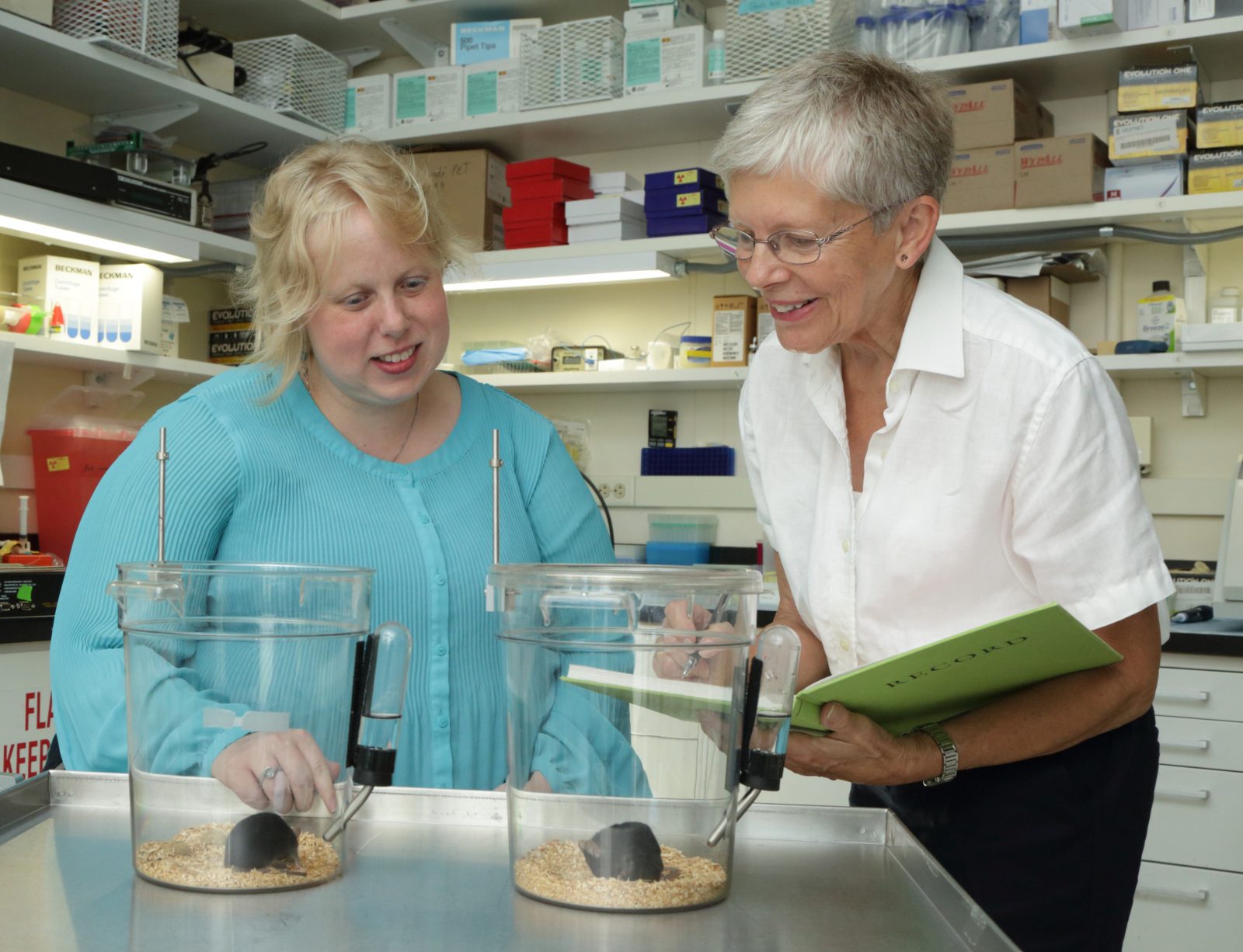 FRAXA postdoctoral fellow, Rachel Sare, PhD, and Carolyn Beebe Smith, PhD
Better Sleep, Better for Everyone!
Dr. Smith aims to understand if sleep is altered in the mouse model of Fragile X syndrome. If it is, then she plans to use medications to correct sleep, determine if remedying sleep can lead to improvements in behavior, and target sleep, in combination with other therapeutics, to yield better outcomes in the mouse model. Her research focus is on two major issues:
1. Autism spectrum disorders in which a dysregulation of cerebral protein synthesis may underlie abnormal phenotypes and
2. The role of protein synthesis in sleep and memory consolidation.
Her study is a preclinical trial of FDA-approved drugs. If her research results in improved performance in the mice, trials in patients would be the next step.
"This research into a novel yet relatively simple therapy has the potential for improving the behavioral outcome in patients with FXS," she said. "Previous work in my lab has focused on dysregulated protein synthesis in the mouse model of FXS. We have used rates of protein synthesis and behaviors, such as open field behavior, social behavior and anxiety-related behaviors, as outcome measures to show efficacy of chronic treatments with lithium and R-baclofen."
Dr. Smith is also studying young men with FXS to see if measurements in mice hold true in humans. "Findings of circadian rhythm abnormalities in mouse and fly models of FXS led us to ask about possible effects of sleep deficits," she said.
'Tremendously Satisfying Experience'
Dr. Smith chose researching FXS as a continuation of her lab work in studying cerebral protein synthesis and its role in adaptive responses in the nervous system for several decades.
"In FXS, the protein that is missing (FMRP) is a regulator of translation," she said. "It was of great interest to us to study the effects of the absence of FMRP on translation in the mouse model and also in human subjects. Rates of translation in nervous tissue may be a potential marker of the disease and treatment efficacy.
"As a basic scientist, this has been a tremendously satisfying experience. For me, the study of FXS has led me to translate our findings in the mouse model to a study of human subjects and the experience of running a clinical study."
FRAXA is 'Extraordinary'
Dr. Smith credits FRAXA funding support for making her research possible.
"FRAXA does an extraordinary job of promoting a collegial atmosphere for investigators in this field and recruiting young investigators to the field through these fellowships," she said. "We are really grateful to FRAXA for the funding and think FRAXA does a tremendous job for both researchers and patients."