Genome-wide Screen for FMR1 Reactivation in Human FXS Neural Cells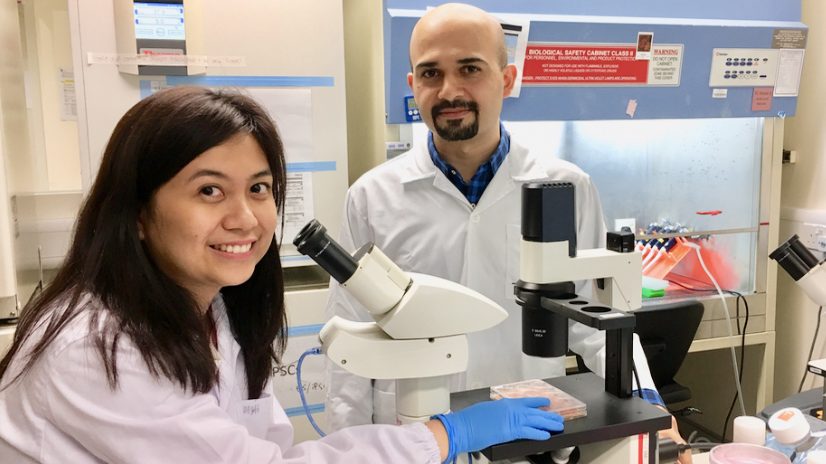 Mahmoud A. Pouladi, PhD
Principal Investigator
Kagistia Utami, PhD
FRAXA Fellow
National University of Singapore and Agency for Science, Technology and Research (A*STAR)
Singapore
2017-2018 Grant Funding: $67,500
Drs. Mahmoud Pouladi and Kagistia Utami at A*STAR in Singapore won a $67,500 research grant from FRAXA Research Foundation and that grant led to much greater governmental funding to expand this work.
Their goal is to reactivate the gene which is silenced in people who have Fragile X syndrome.
"We showed that the transcriptome and proteome profiles of isogenic FMRP-deficient neurons demonstrate perturbations in synaptic transmission, neuron differentiation, cell proliferation and ion transmembrane transporter activity pathways, and autism spectrum disorder-associated gene sets. We uncovered key deficits in FMRP-deficient cells demonstrating abnormal neural rosette formation and neural progenitor cell proliferation. We further showed that FMRP-deficient neurons exhibit a number of additional phenotypic abnormalities, including neurite outgrowth and branching deficits and impaired electrophysiological network activity. These FMRP-deficient related impairments have also been validated in additional FXS patient-derived human-induced pluripotent stem cell neural cells."
The team's findings, Integrative Analysis Identifies Key Molecular Signatures Underlying Neurodevelopmental Deficits in Fragile X Syndrome, were published in PubMed on September 15, 2020.
Fragile X syndrome (FXS) is caused by loss of a protein encoded on the X chromosome. Restoring the missing protein, known as FMRP, is expected to be the most effective therapeutic strategy for FXS, reversing the developmental delays and improving the clinical outcomes for patients with FXS.
With this Fragile X research grant the goal of Dr. Utami and Dr. Pouladi's team at the Agency for Science, Technology and Research (A*STAR) is to use large-scale genetic approaches to identify novel factors that can reactivate the gene encoding FMRP in human FXS neurons.
Grant Post Revisions
2020/10 - Added The Results.
2017/10 - Original grant post published.