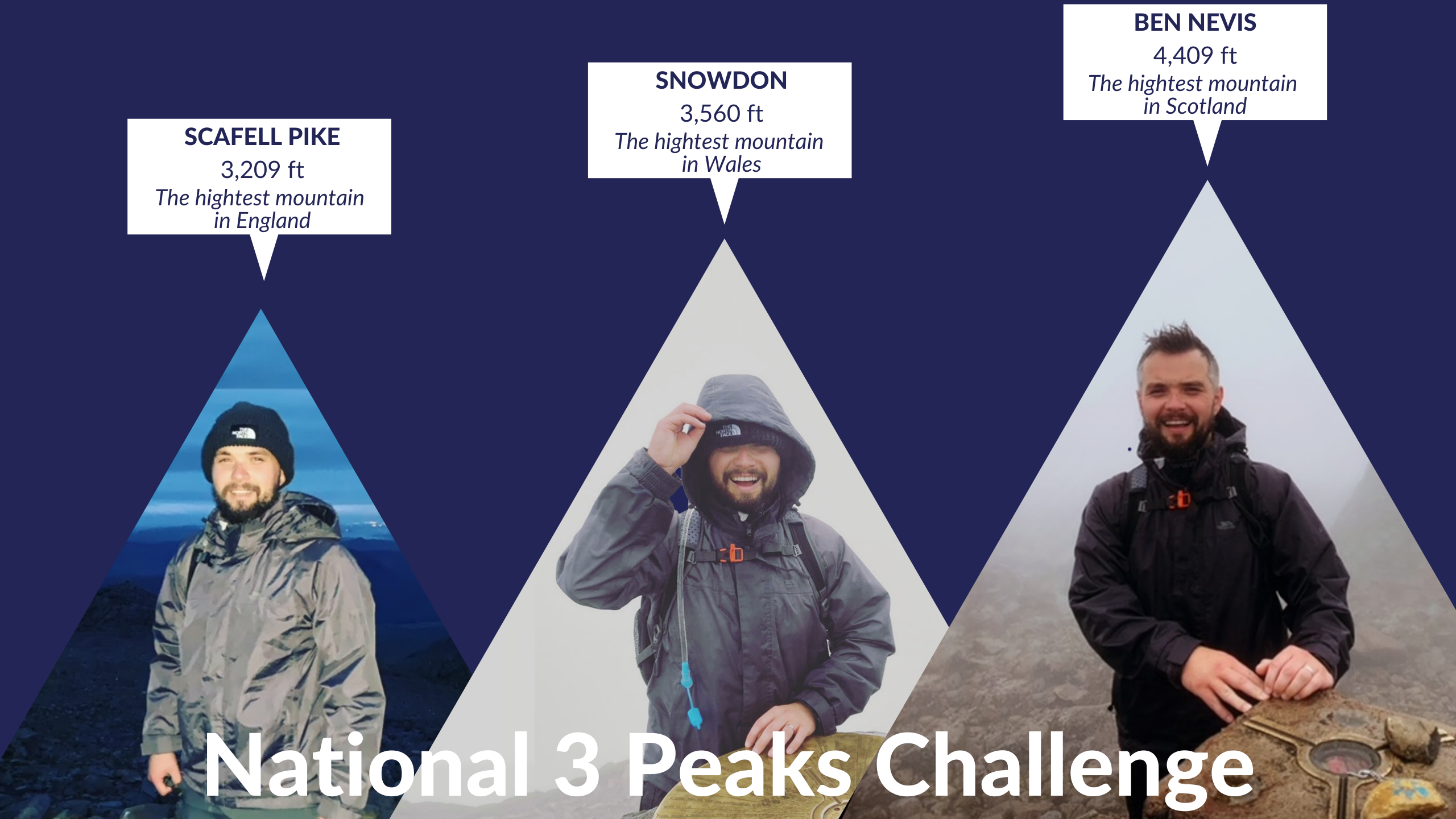 People often say they would do anything for their children. What if that "anything" was to climb a mountain? How about three in a twenty-four hour time period? That's exactly what Michael Leonard did in honor of his son, Cole, who lives with Fragile X syndrome, raising £4000 (just over $5,300) for FRAXA Research Foundation!
Mike and his wife, Hannah, live in North Wales with their two children, Teddy and Cole. They are expecting their third son this month. Born in 2018, Cole wasn't hitting the typical developmental milestones that they had seen with their older son, Teddy. The family sent blood to check for genetic conditions that might be impacting Cole's development. Due to Covid, 9 long and agonizing months went by before they had their answer. In June of 2020 Cole was diagnosed with Fragile X syndrome.
Mike shared, "The news was like a bombshell at first and we were devastated. We were aware of what Fragile X was as we had researched almost every possible outcome whilst waiting for the genetic results. After having time to digest the news and interactions with others in the Fragile X community, it became easier and we came to realize that all that matters was that Cole is happy and loved. We really couldn't love him any more than we do. He's so incredibly special and is making us proud every single day with the steps he is taking."
Tackling the 3 Peaks Challenge
When Mike and Hannah learned of FRAXA's work to find effective treatments and ultimately a cure for Fragile X, they knew they wanted to support these efforts in honor of Cole.
Mike saw taking on the 3 Peaks challenge with his friends as an ideal opportunity to raise money for FRAXA and awareness for Fragile X. The 3 Peaks Challenge consists of climbing the United Kingdom's 3 highest mountains in a 24 hour period.
Mike said the challenge was the most draining thing, physically and mentally, that he has ever done. Mike and five friends tackled the three mountains with the support of two drivers.
The challenge started on August 14 at 8:30 am in Scotland, where the group climbed Ben Nevis. They then climbed Scafell Pike in England and ended with Snowdon in Wales. "By this point we were all exhausted and emotionally drained. We were familiar with Snowdon as we had done a few training walks there, but after already climbing two mountains and with little to no sleep the thought of the third climb was daunting. The thought of Cole and raising money for his and FRAXA's cause is what pushed me through. We started the climb for Snowdon at 4 am and we're back down just after 8 am, meaning we managed to complete the challenge in under 24 hours!"
"We couldn't be prouder of Cole. Every day he amazes us with something new. He has recently started nursery with one to one support and it's had an incredible impact on his development."
Congratulations to Mike and his friends for successfully completing the 3 Peaks Challenge and raising funds for Fragile X research! What an incredible accomplishment.