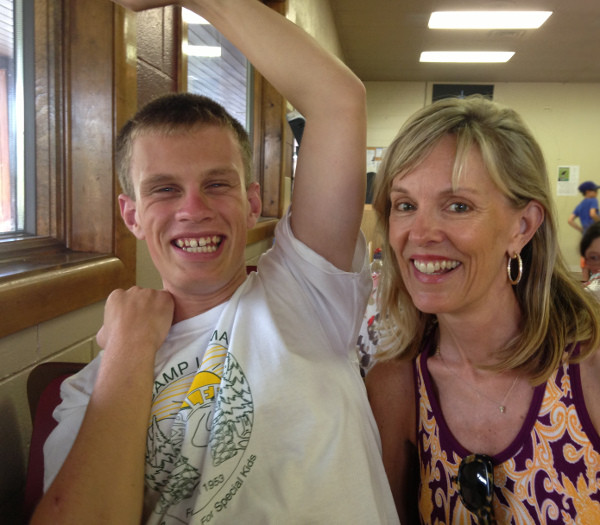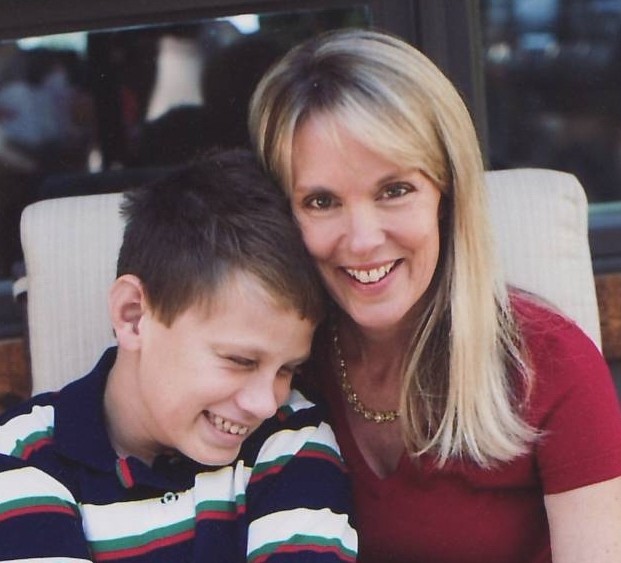 Our family continues to marvel at Taylor's progress every day. The most dramatic areas of growth we are continuing to see are in his speech and social skills.  Regularly now, Taylor answers questions with 3 to 5 word appropriate responses.  Previously his answers would be limited to either no words or maybe a 1 or 2 word answer, and you rarely knew if he was actually giving you the correct response or not.  This is a dramatic improvement for us --  Taylor is so much better able to express himself now.
A couple of examples:
Taylor was resisting doing something the sitter wanted him to do one day, so he came to me and said "I can help you, Debbie" which really meant "Debbie, (Mom) can you help me".  Though the sentence was a little backwards, he used 5 words to make his point and he meant what he was asking for.
Another time, I rang the doorbell to get in our house knowing Taylor was inside and loves to answer the door.  He let me and his grandmother inside, and when he was asked directly by someone else who was at the door, he said "Mom and Nana".  Not long ago he would have answered that question with who he wished had been at the door - most likely either Mickey Mouse or Mary Poppins.
Recently, Taylor approached a family friend who had been on the same airplane with us the day before and Taylor said to her, "Hi, we met on Delta".  Taylor really loves attending Teen Night at a local program where they have a teen party for special people on Fridays.  He can't wait for those Friday nights.  And Taylor can also run behind a kite now with his siblings.
We take great pleasure in watching Taylor's progress and we've been absolutely thrilled with the growth we've seen in him in the last year or so!
---
2013 -- Our experience in a clinical trial of a new medicaiton
Last year, Taylor completed a clinical trial of an experimental new medication known as AFQ056, developed by Novartis. As an extension of that trial, he continues to take this medication, and we are continuing to see wonderful new developments.  Taylor is much more aware of everything going on around him. Here are a few examples:
Without any prompting one morning, Taylor pulled a kitchen chair over to a cabinet, climbed up to standing on the chair to reach his favorite box of cereal on the very top shelf.  This was extraordinary given his fear of heights, issues with vertigo and difficulty with sequencing even the most minor tasks.
One day we found him searching through the winter coat closet, digging in every pocket and saying "I need my wallet".  Sure enough, in the family correspondence part of his school notebook, I found a teacher request that students bring money to school the next day to buy treats at a school fair!
Taylor kicked the dog's water bowl one day and spilled water all over the kitchen floor.  Without any prompting, he took some paper towels, cleaned up the water, then carefully re-filled the dog's water bowl and placed it back in its spot on the floor.
One of the biggest examples of reduced anxiety was during a recent school play.  Taylor was able to be part of the musical chorus without an adult escorting him on and off-stage.  This was the first time ever he was able to manage that independently.  In the past his anxiety at show time -- the audience, the lights, the excitement of it all -- combined to get the best of him and he needed a great deal of assistance.
And, finally, he now seems to understand now that you aren't supposed to take money OUT of the collection tray when they pass it around at church!
---
December 2012
Fourteen years ago – We were completely unprepared for the journey we were about to embark on when our oldest son, Taylor, was diagnosed with Fragile X syndrome at the age of 2. Unwilling to accept the grim future experts were predicting for him, we teamed up with FRAXA Research Foundation and got to work. At that time, even the suggestion that one day we hoped to have a medication to treat mental impairment sounded like science fiction.

The little engine that could – Our decision to get involved with FRAXA early on was an easy one. Since FRAXA was founded in 1993, this small non-profit has been steadily chugging along. In an amazingly short period of time, FRAXA has raised $27 million, facilitated worldwide collaboration among the researchers, helped usher three different classes of medications into clinical trials, become a role model for other medical non-profits in encouraging translational science, built sound relationships with pharmaceutical companies experienced at developing and bringing drugs to market, and given hope to families everywhere affected by Fragile X.
Treatments are on the way – One year ago Taylor started a clinical trial with the wonderful people at Emory University in Atlanta, GA. As an extension of that trial, he is now taking one of the promising medications aimed at directly targeting the defects in the brain caused by Fragile X. Every day we see a glimpse of normal behavior that just sends waves of joy through us. Small achievements, such as using full sentences to ask or answer a question, and showing great enthusiasm prior to attending a teen party one weekend, have been extraordinary moments to celebrate, given Taylor's level of impairment.
A pipeline full of promise – In Taylor's 16 years on this earth and in our lives, he has taught our entire family a great deal about tolerance, empathy, and what's really important in life. Taylor is a happy teenager, but a cocktail of medications will be needed to more closely restore normal brain function allowing him to live a less anxious and more self-sufficient life as an adult. FRAXA is working hard every day to accelerate the pace of this important work. Brain research benefits everyone, and every new discovery moves scientists a step closer to developing a road map of the brain that will ultimately impact the study of many neurological disorders. Overlapping symptoms lead experts to believe that medications developed to treat Fragile X would also be useful in treating Autism as well as Alzheimer's and Parkinson's.
Join us on this fantastic journey – Watching this science develop at lightning speed has been an incredible experience. Our family thanks each and every one of you who has ever contributed to this cause. We would be most grateful for anything you can contribute to help FRAXA continue this great work!
-Debbie and Jeffrey Stevenson