Somatosensory Processing as a Therapeutic Target for Fragile X Syndrome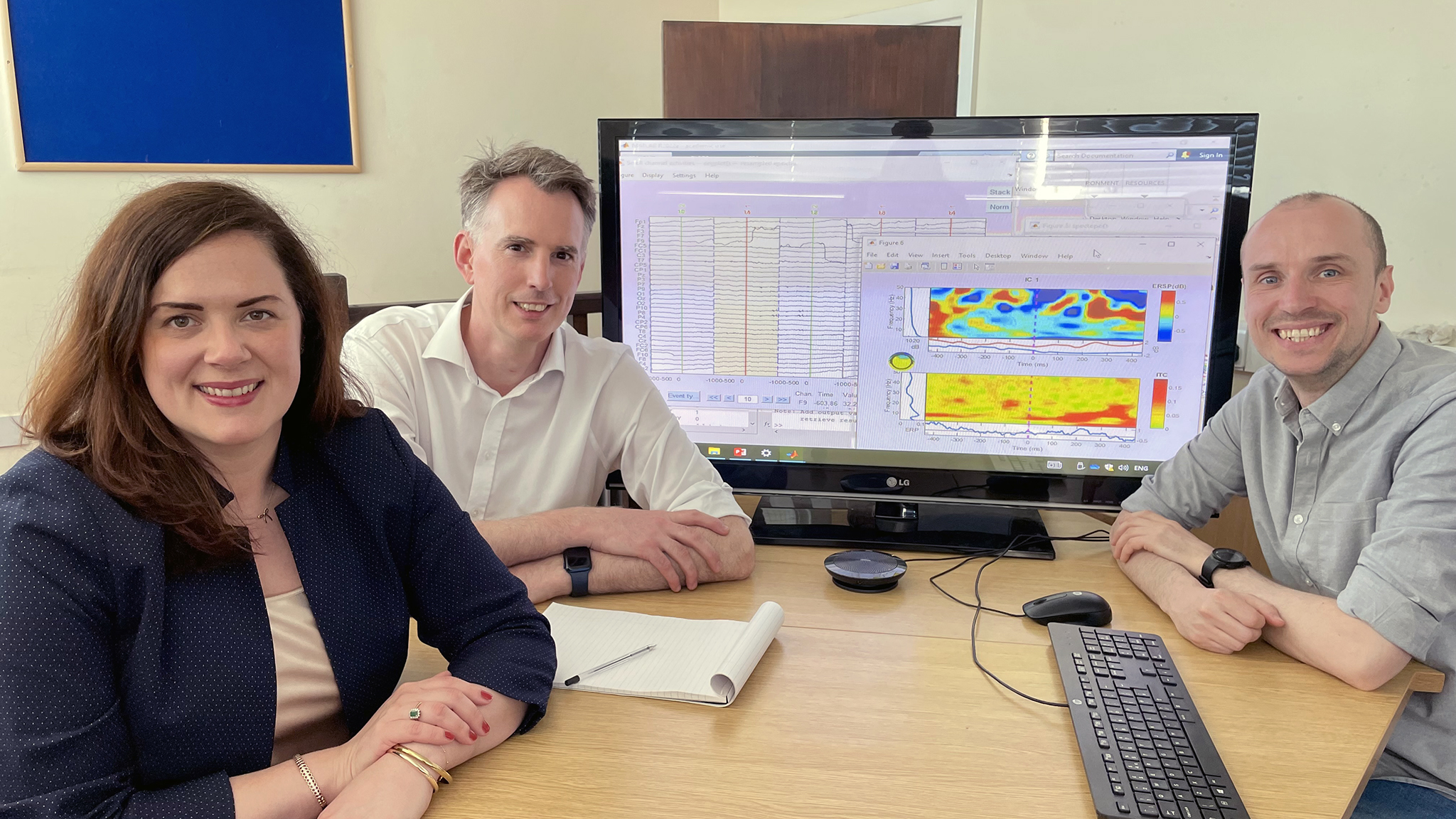 Andrew Stanfield, PhD
Principal Investigator
Leena E. Williams, PhD
Co-Investigator
Damien Wright, PhD
FRAXA Postdoctoral Fellow
University of Edinburgh
Scotland
2023-2024 Grant Funding: $100,000
With funding from FRAXA, this team will conduct a clinical study which focuses on the sense of touch in individuals with Fragile X syndrome. Dr. Stanfield and colleagues have previously found that reactivity to touch reflects distress and anxiety in people who have Fragile X. They will design a trial using a touch stimulating device to measure this reactivity. This noninvasive measure will not require participants to perform a task, and so it could offer an effective and easily performed outcome measure for future clinical trials of treatments.
20 individuals with Fragile X syndrome will be invited to participate in this study at the University of Edinburgh.
by Andy Stanfield
Sensory processing impairments, in particular those involving sensitivity to touch, are increasingly recognized as important features of Fragile X syndrome (FXS). Preliminary evidence from our lab in FXS individuals suggests that atypical touch reactivity may be strongly correlated with distress, anxiety and self-harm. Presently, there is a lack of treatments that successfully address these differences in touch processing, moreover, there are limited objective measures of touch which can be implemented in FXS. In order to aid the development of appropriate treatments it is imperative that we now develop an objective measure of tactile impairments.
This clinical study will therefore examine whether electroencephalography (EEG), combined with a commercially available touch stimulating device (Cortical Metrics Brain Gauge), is a suitable tool for objectively quantifying tactile impairments and measuring treatment success.
Dr. Damien Wright is a post-doctoral fellow in the Clinically Applied Research in Intellectual Disabilities (CARID) group, based in the University of Edinburgh's Patrick Wild Centre (PWC). The PWC is a clinical and translational research centre investigating single gene causes of neurodevelopmental conditions, especially FXS. Dr. Andy Stanfield is a clinical academic psychiatrist who directs the clinical research programme at the PWC. Dr. Leena Williams is a group leader and fundamental scientist researching tactile brain processing at The Simons Initiative for the Developing Brain (SIDB), a 'virtual' research centre based at the University of Edinburgh which brings together around 40 principal investigators, following a generous donation from the Simons Foundation Autism Research Initiative (SFARI). SIDB's mission is to discover basic biological mechanisms underlying FXS and autism with a goal to deliver rational therapeutics. PWC and SIDB are sister centres that promote the interaction between basic scientists and clinicians to ensure our research is focused on medically relevant aspects of neurodevelopmental conditions.
In a recent press release, the team announced their receipt of the FRAXA Fellowship grant. Dr. Williams expressed her excitement about the grant, stating, "This funding will enable us to conduct a promising clinical pilot trial to develop an objective measure of tactile impairments in FXS individuals... It is our hope that this work will fast-track the development of an objective measure of tactile impairments that can be used diagnostically in the clinic and can in future propel the development of novel therapeutic strategies."