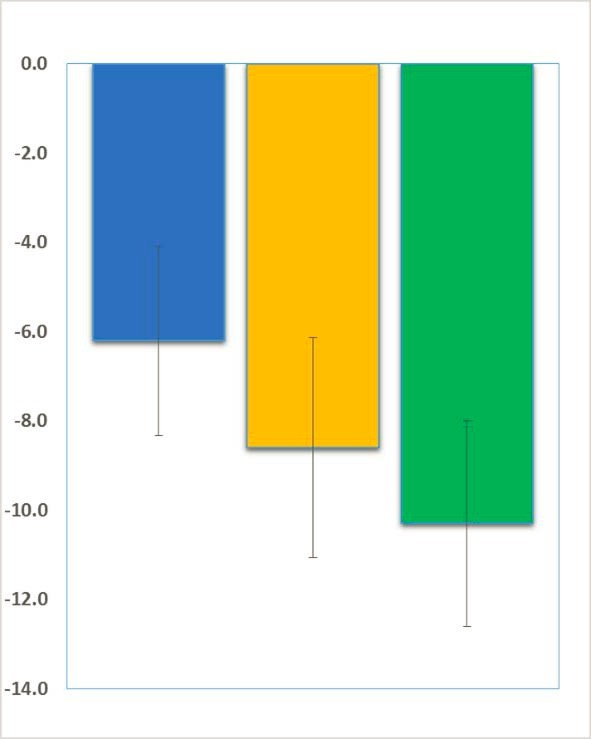 One of the outcome measures – the new Fragile X Syndrome Rating Scale – showing positive results. Blue: placebo; Yellow: low-dose trofinetide; Green: high-dose trofinetide
We are pleased to share great news adapted from Neuren's press release:
Neuren's phase 2 trial has successfully established proof of concept and provides a strong rationale for Neuren to move forward with developing trofinetide for Fragile X syndrome. In this initial small trial with a relatively short treatment period, trofinetide was very well tolerated, with the high dose (70 mg/kg twice daily) demonstrating a consistent pattern of clinical improvement, observed in both clinician and caregiver assessments.
After only 28 days of treatment, improvements were seen across core symptoms of Fragile X syndrome, including higher sensory tolerance, reduced anxiety, better self-regulation and more social engagement. No serious adverse events were reported.
Positive Results in Fragile X Syndrome and Rett Syndrome
Beneficial effects of trofinetide have now been observed in both Fragile X syndrome and Rett syndrome. Neuren announced encouraging results of their phase 2 trofinetide trial in Rett Syndrome last year.
Trofinetide Tested at FRAXA's Drug Validation Initiative
Next Steps
Based on these results and feedback from clinical experts in Fragile X syndrome, Neuren is strongly encouraged to advance to the next step in clinical development. This will likely involve a study in younger children with Fragile X syndrome and may examine a longer treatment duration with higher doses. This next study will also refine the outcome measures that may be used in a Phase 3 study (clinical trial phases explained here).