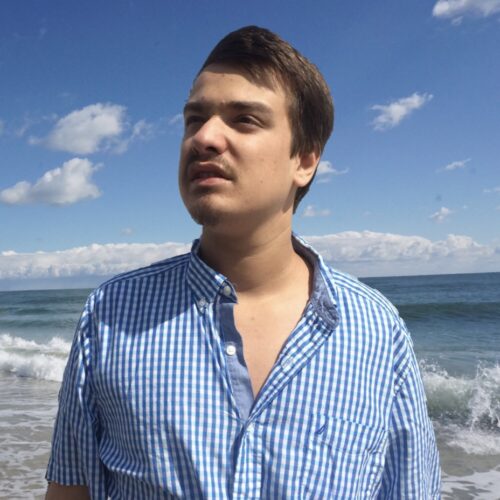 Donate in Memory of Garret
Garret Peacock Volker was a handsome young man who was smart, funny, and enjoyed life. He unexpectedly died of heart failure on August 9, 2023 when he was only 27 years old. Garret had an extraordinary life, and we, as his parents Lori and Paul, miss him so very much. Garret had such a great sense of humor and would make up words to describe things and often would play on words with puns. For a guy who did not like to talk much, he would say something to make us laugh every day. He loved puzzles, card games, and board games like Chess and Monopoly. He loved his movie collection and often had movie marathons with a theme like Pixar week, Harry Potter week, and Studio Ghibli week. Garret also loved carousels and traveled to many cities to visit historic wooden carousels. He had so many people in his life who he loved and who loved him.
Garret also had Fragile X syndrome. This limited his ability to express himself. As his parents, we feel strongly that if he had been able to express himself, how he felt, and what he thought, he would have had more choices in life and been able to be more independent. We want that for other people living with Fragile X syndrome. That is why we want to support FRAXA's goals to find a cure and effective treatment for Fragile X. We appreciate so much any donation to this cause in Garret's honor. He was a remarkable man.
Garret was able to donate to help others through Lifeline of Ohio. He was also able to donate to research for a cure for Fragile X through the UMass Chan Medical School and the Autism BrainNet.