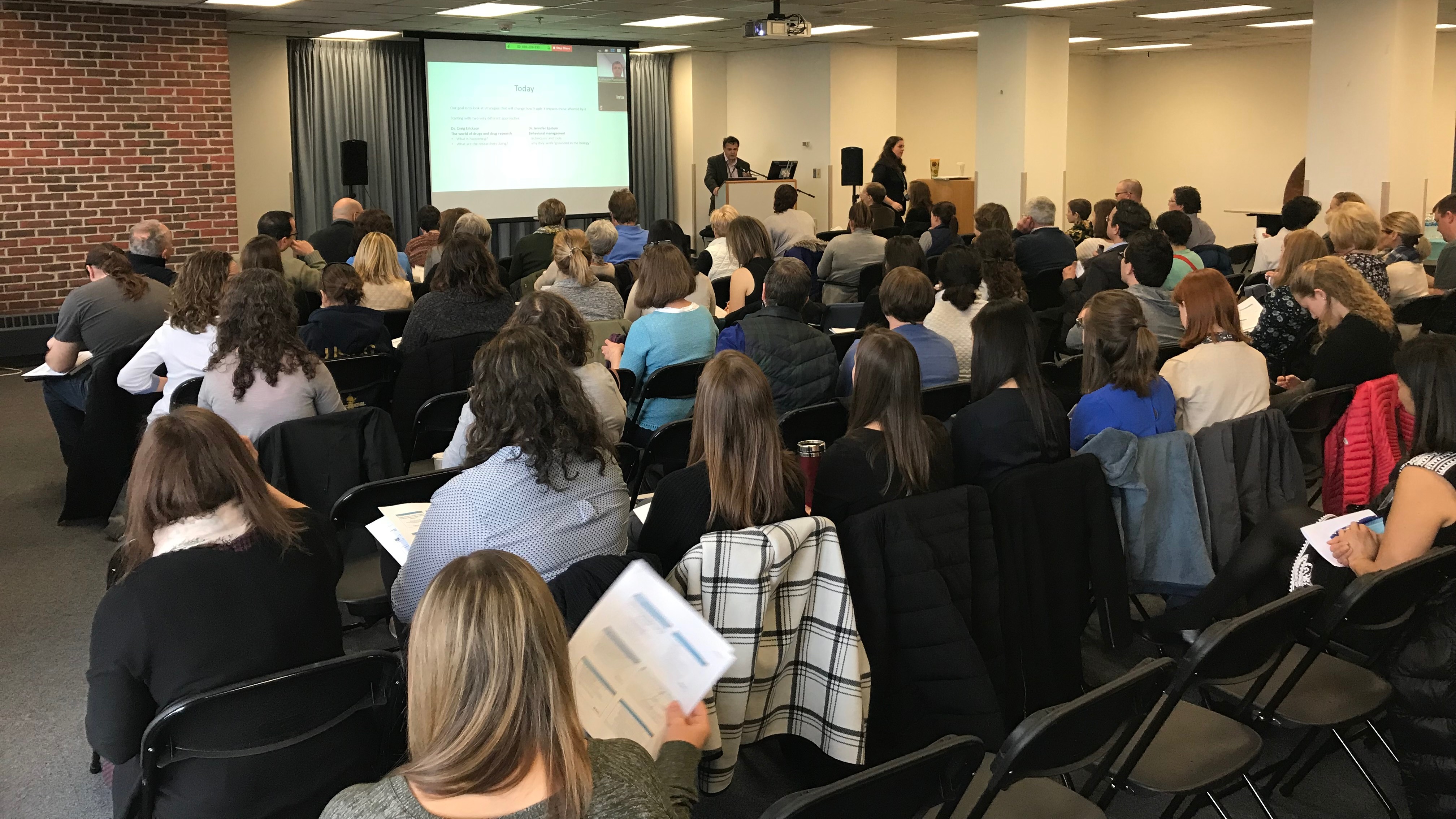 On Saturday Boston Children's Hospital (BCH) hosted a Fragile X educational conference, Success Strategies for Individuals and Families Impacted by Fragile X and close to 100 members of the fragile x community attended in person. BCH also simulcasted the event live to Fragile X Chile, so it felt as if our Chilean families were in the room with us. FRAXA and the Pierce Family Fragile X Foundation were proud to sponsor the event at the platinum level, enabling two of our researchers, Dr. Craig Erickson, and Carol Wilkinson, MD, PhD, to give an update on their current clinical studies, both being funded by FRAXA.
Dr. Erickson started the day off discussing Targeted Drug Treatment in Fragile X Syndrome: New Developments and Directions. He presented an impressive study comparing single doses of four different potential Fragile X treatments, showing that EEG has great promise as a potential outcome measure for future clinical trials. His current FRAXA funded AZD7325 clinical trial will be incorporating EEG test he spoke about. EEG is also the subject of Dr. Wilkinson's current study in young children with Fragile X, which she discussed in the afternoon.
Dr. Jennifer Epstein then talked about Behavior Strategies for FXS: Building for Success and she was able to cram a lot of information into a quick presentation. The big take away was that you cannot "punish" a behavior out of existence. You need to determine what need is being met by that particular behavior and focus replacing it.
A special friend of FRAXA joined us to bring even more positive energy to the event! Artist Maria Castellano-Usery, volunteers her time and talents with "Brushstrokes with Impact". During the conference, Maria created an original painting to be raffled at the end. Cliff and Katherine Lamb were the lucky winners and Maria painted their daughter's name in the image. Maria is an amazing person with a huge heart. She is not a Fragile X parent but volunteered her time and the painting to support FRAXA's mission. Thank you, Maria!
A big thank you to the entire team at Boston Children's Hospital for making this conference happen. A special thanks to Denise and Kelley Devine for their assistance with the event. We came away having renewed old friendships and forged new ones, excited about current studies, with a renewed awareness of the importance of participation in studies and clinical trials, and energized by a common purpose that reaches as far as Chile! We are grateful for being able to help bring this conference to the Boston Children's Hospital with our sponsorship.