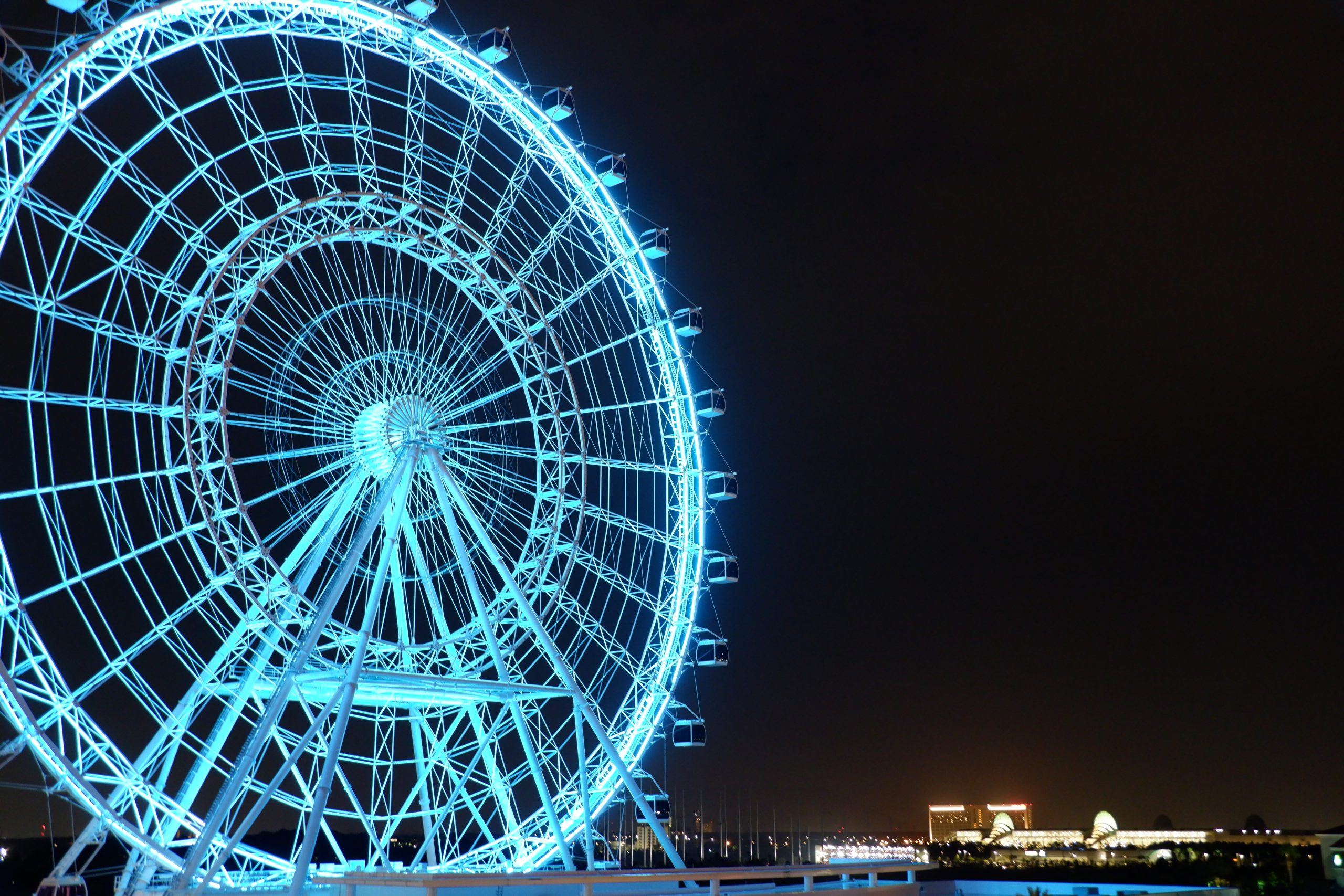 Ferris wheel at ICON Park in Orlando, FL. Photo credit: Tristan Mohabir.
The past few months have been strange, to say the least. 2020 started out with such promise and energy after a great 2019, with ambitions and lofty goals in the new year. Then COVID-19 happened. One by one, in-person events were postponed, and ultimately cancelled, due to the inability to gather in groups. This was a difficult reality to accept, as many of these planned in-person events have been held for many years and were eagerly anticipated by many people in the community. We knew we needed to put our heads together, adapt to the changes, and rise to the challenge.
While the coronavirus made it impossible for large groups to get together for our cornhole tournament, basketball tournament, golf outing, and other public gatherings, we decided we would not be deterred from bringing people together to support our mission. We needed to pivot to meet the needs of our community and connect in ways we never have before.
It all started on a Zoom call with some of our volunteer leaders who host events benefiting FRAXA across the country. It was so fun to welcome such passionate people and experience their joy in sharing about their events, families, and Fragile X experiences. From that meeting came some wonderful ideas to keep the momentum going. We realized that many families were facing challenges being quarantined at home, so we decided to host a series of virtual gatherings: morning coffee chats, research updates, and happy hours. These events bring together people in new and positive ways. Even though we can't shake hands or give a hug, we can see each other and enjoy genuine conversations. Check out our upcoming Virtual Gatherings and join us!
From these meetings was born the idea to do something really special during July to commemorate Fragile X Awareness Day. We would harness the power of the internet to raise awareness with three unique events – the #TealTakeover.
First, we created Step Up for Fragile X, our first ever national virtual event to invite families across the country to "Step Up" – run/walk/bike/dance – on July 25, just 3 days after Fragile X Awareness Day. Many people shared pictures, videos and stories about their families and asked their friends, neighbors, and co-workers to join them throughout the month. Our plan was to connect people that would not have otherwise met and foster the feeling of being a part of one big community during July – virtually! Whether you were in California, Texas, Missouri, New York, Massachusetts or anywhere in between, we could all be together. And wow did people get involved! We were thrilled that over 370 people stepped up across the country and shared what makes their Fragile X loved one(s) so special. Throughout the month of July we were inspired by the stories of families coming together across the country to build a true sense of community.
Second, we "stepped up" our efforts (pun intended) to light up landmarks, buildings, and bridges teal on July 22; Fragile X Awareness Day. This began in 2018 with lighting up Niagara Falls in teal. In 2019, we had 21 landmarks across the country and in 2020 we set a goal to get 50. Wouldn't it be amazing to see 50 high profile illuminations across the United States? Imagine if we could get one in every state so that families in our community could see a landmark in their backyard light up teal to commemorate Fragile X Awareness. We were blown away by the response. On awareness day, 67 lightings took place across the hemisphere to raise awareness for Fragile X syndrome. From Honolulu, Hawaii, to Alberta, Canada, down to Orlando, Florida, all the way to Dublin, Ireland, we were able to bring awareness to Fragile X by lighting up the sky teal. Our friends in Australia lit up landmarks across their continent in orange. We knew families had been spending much of their time indoors over the past few months. The light ups were a great reason to get in the car and drive by a landmark or coordinate with other families to socially distance and cherish the moment together. We cannot wait to get even more locations next year.
Saint Louis Science Center, St. Louis, MO
Wrigley Building, Chicago, IL
McDonnell Planetarium, St. Louis. MO
Finally, we were approached by one of our friends in Colorado, Nicole Eisdorfer, with an idea to raise awareness for Fragile X during July. She started an aspirational viral campaign called "The Pie in the Sky Challenge" to raise awareness of people outside the Fragile X community. The challenge includes making a video of yourself tossing a pie in your face and then challenging 3 friends to do the same, or make a donation to Fragile X research. Thanks to Nicole's video and relentless energy, she sparked a series of hilarious videos and got people involved around the country. She even got her cousin Eliza Dushku to do her own video which was viewed over 94,000 times. We are so grateful for Nicole's tireless efforts to bring awareness to Fragile X this July!
Our heartfelt thanks go out to everyone who participated in the #TealTakeover. We could not have done this without your support. Throughout the month of July, despite the pandemic, we were able to come together as a community and connect with old friends, make new ones, and form relationships that will hopefully last far beyond these coronavirus times. FRAXA will continue to make and foster these connections. We will also not stop funding groundbreaking research. We are relentless in our mission to find effective treatments and ultimately a cure for Fragile X. We are all in this together, and look forward to *seeing* you all again soon.