Exploring Drug Repurposing to Restore Hippocampal Function in Fragile X Syndrome Mouse Models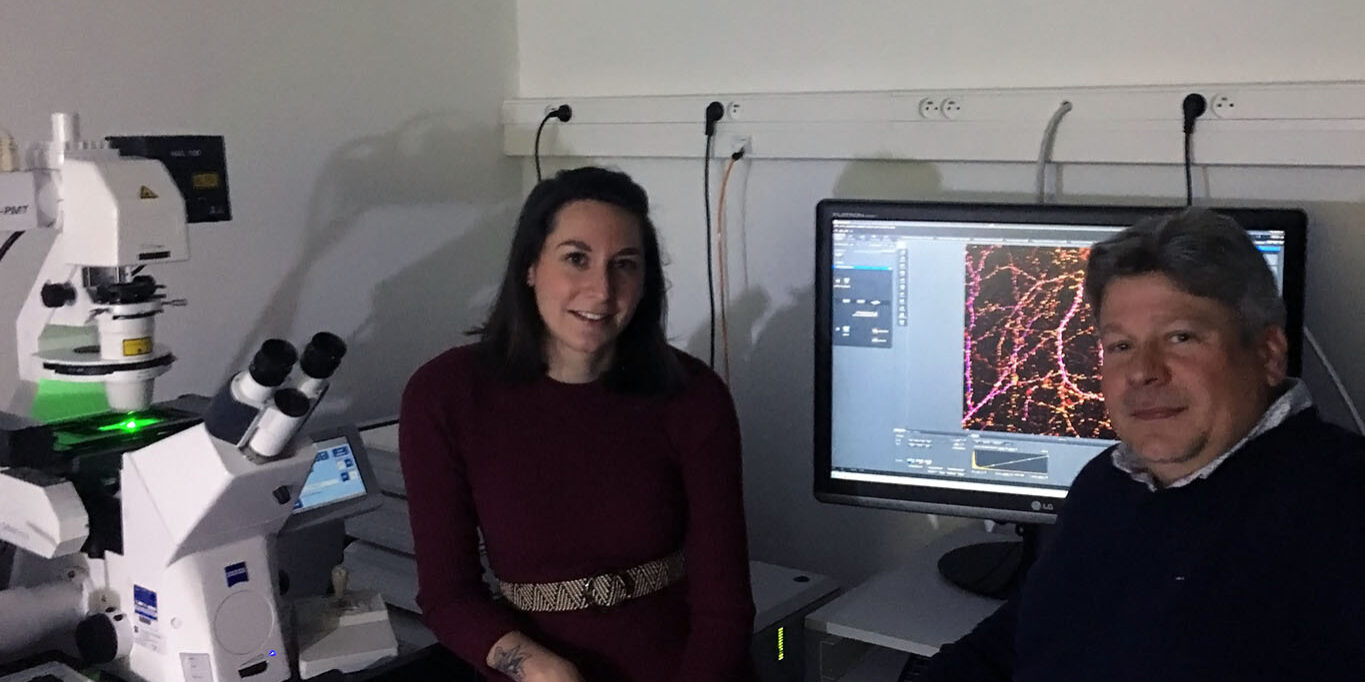 Stéphane Martin, PhD
Principal Investigator
Marie Pronto
Co-Principal Investigator
Institut de Pharmacologie Moléculaire et Cellulaire
Valbonne, France
2022-2023 Grant Funding: $90,000
A gene's job is to produce a protein. In Fragile X syndrome, the FMR1 gene is mutated and cannot make FMRP, a protein which shapes connections between nerve cells (neurons) in the brain. These connections are the basis of learning and memory.
This team has discovered a mechanism involving FMRP that is absolutely essential to control the connections between neurons. These connections are the basis of learning and memory. They will now test available drugs which directly target this mechanism, to see if they can treat Fragile X syndrome.
By Stéphane Martin, PhD
The organization of the brain network communication is central to learning and memory processes. Alterations in these networks have clearly emerged as a critical factor in the etiology of the Fragile X syndrome. Mutations within the FMR1 gene, which encodes for the FMRP protein, cause the disease. Indeed, the FMRP function is essential to control the number and the shape of the contact points (called synapses) between nerve cells or neurons during the brain development.
In the past few years, we identified a molecular site on the FMRP protein that is essential to control the formation of the synapses. Since then, our research team has focused on the Fragile X R138->Q missense mutation that is located close to the identified neuronal connection regulatory sites on FMRP. We generated a novel mouse model of Fragile X bearing this particular Fmr1 missense mutation. We demonstrated that the number of synapses is dramatically increased and consequently, that the neuronal communication as well as the social and cognitive behaviors of these Fragile X mice are altered. We also noticed that two essential neurotransmitter receptors centrally involved in brain communication are not correctly distributed in the synapses of these mice. Interestingly, these receptors defects also exist in the classical Fragile X mouse model lacking the expression of the FMRP protein.
The main aim of this FRAXA-funded Fragile X research project is therefore to evaluate the efficacy of pharmacological treatments on both Fragile X mouse models with drugs already used in clinics to treat patients with other pathologies. These drugs target among other things, the receptors that are altered in both Fragile X mouse models. We will first test whether these pharmacological molecules can restore the adequate number of synapses and neurotransmitter receptors in vitro and then, with the potent drugs selected during this first phase, we plan to assess their ability to correct the altered pathways identified in both Fragile X mouse models and to measure their benefits in preclinical studies.