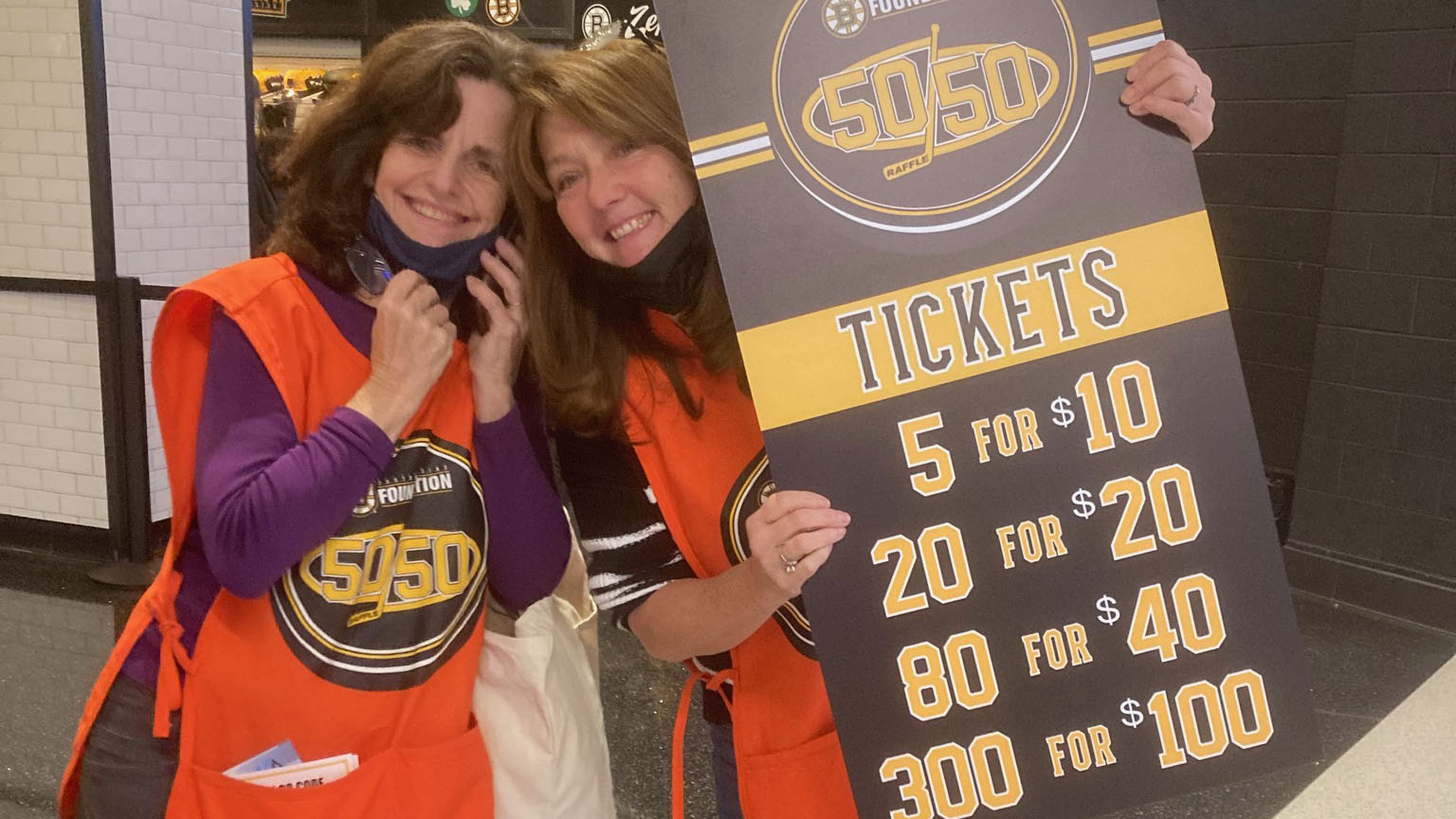 November 4 was an exciting day for the Boston Bruins and FRAXA Research Foundation!
As the Bruins took to the ice to score a big win over the Detroit Red Wings, FRAXA volunteers took to the concourse selling 50/50 tickets to fans. This incredible opportunity, made possible by the Boston Bruins Foundation, raised a grand total of $28,040 which was split between FRAXA and one lucky winner!
In addition to the $14,000 raised for Fragile X research, it was an incredible awareness opportunity! FRAXA's mission and information about Fragile X syndrome were announced to the 17,000 hockey fans in attendance.
FRAXA volunteer Larissa Denisky shared, "I had a blast volunteering with the FRAXA team selling raffle tickets! In the middle of the first period, I heard FRAXA's name over the intercom and sprinted in the arena and saw our name on the Jumbotron. It felt so amazing to be able to share FRAXA's mission to Bruins fans, who had such a warm and energetic response!"
During the game, a Bruins fan approached FRAXA co-founder and president, Katie Clapp, and shared his family's Fragile X story. He has a nephew in Chicago living with Fragile X. Their family is not yet connected with the community or medical professionals. Happy to help, Katie exchanged information with him so she could make those important connections and share Fragile X research updates. The Bruins fan was thrilled that he could not only support FRAXA, but help his family make the connections they need. Katie shared how exciting it is to meet new families and provide hope for the future while promoting FRAXA's work.
FRAXA is grateful for the long-time support of the Boston Bruins Foundation and its Board of Advisors. They have been steadfast supporters and believe in FRAXA's mission to find effective treatments and ultimately a cure for Fragile X. Jason Trombetta, the foundation's Assistant Manager of Sports Memorabilia, and his team were excellent hosts and ensured a great experience for FRAXA's families and friends who volunteered for this event.
The Boston Bruins Foundation holds a 50/50 raffle to benefit a lucky charity at each of the Bruins home games. For the 6th time, FRAXA was honored to be chosen by the Bruins Foundation as the beneficiary of the raffe. FRAXA volunteers worked hard to sell raffle tickets online and in person. The time and dedication they provided to make this event a success is appreciated.