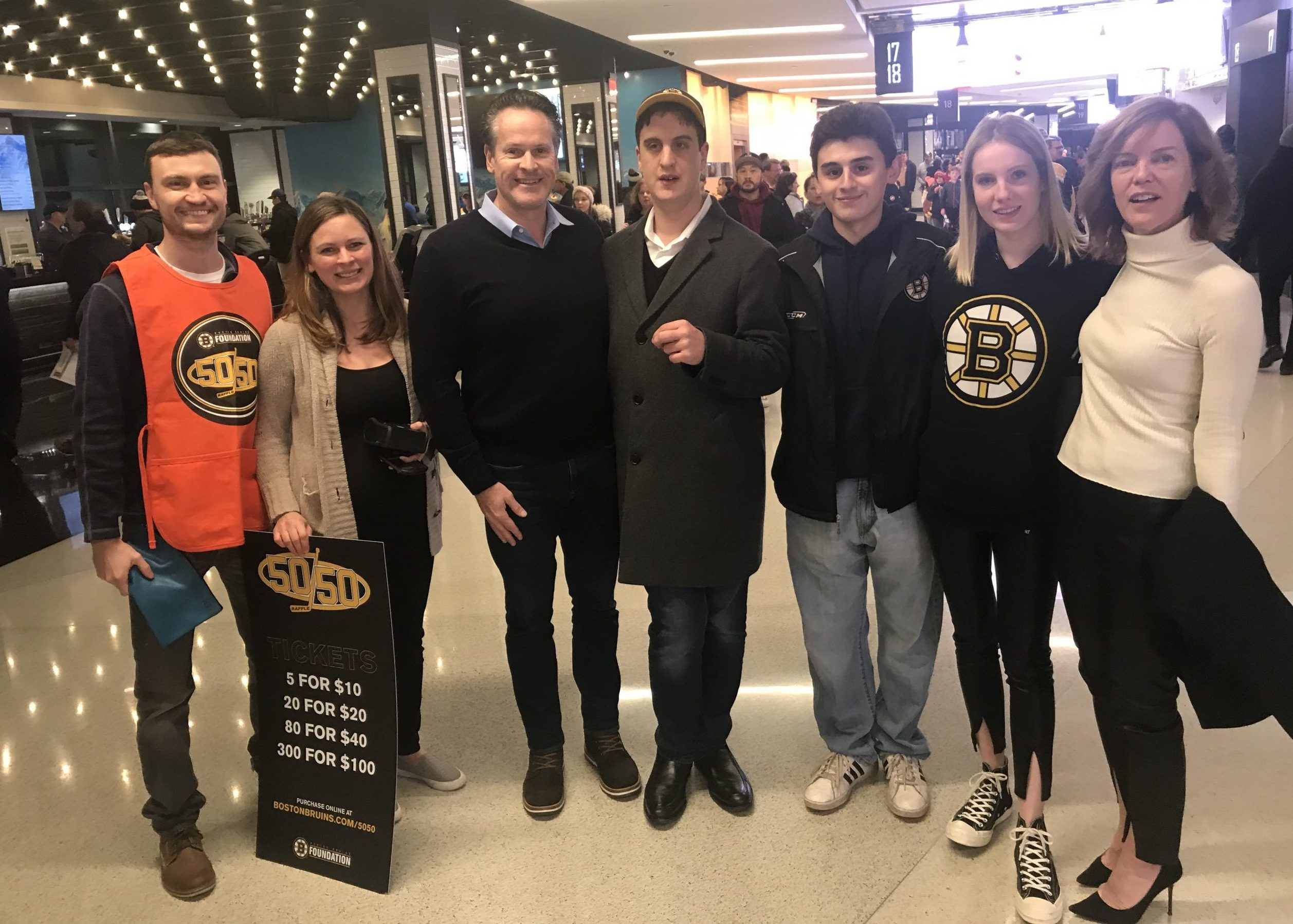 During each Boston Bruins home game, the Boston Bruins Foundation conducts a 50/50 raffle to benefit a lucky charity. Fifty percent of raffle tickets sold go to the charity and the other fifty percent goes to one lucky winner.
For the 5th year in row, the Bruins Foundation chose FRAXA as a beneficiary of the raffle. This year's game was held on November 23, 2019 against the Minnesota Wild. Not only were the Bruins able to take home a win, but FRAXA received half of a whopping $37,000 raised that night!
All of us at FRAXA are profoundly grateful for the long-time support of the Boston Bruins Foundation and its President Bob Sweeney. Bob and the board of directors have been steadfast supporters of our mission for many years, and they have made a significant impact on our organization. We also thank Jason Trombetta, Assistant Manager of Sports Memorabilia, and his team for being such wonderful hosts at the game. They ensured that everything ran smoothly and accommodated us in every way.
We also want to thank the volunteers who came to the game to help us sell raffle tickets. Without their help, none of this would have been possible. In all, there were over 50 volunteers helping sell tickets throughout the Boston TD Garden concourse. It was quite a sight to see friends of FRAXA of all ages enthusiastically representing our organization at such a high-profile event. There were many authentic conversations between Bruins fans and our volunteers, talking and educating about Fragile X. How gratifying that not only were we able to raise money that will go directly to research, but to also help raise awareness of Fragile X.
"FRAXA Night at the Bruins" was a family affair for many, including one family who brought their 17-year-old son to the game. He did a great job getting people to stop and talk about Fragile X and helped sell a lot of tickets! His sister and the sister of another boy with Fragile X built a unique bond. It was touching to see these siblings get to know each other. One family traveled all the way from Pittsburgh for the event!
Finally, our sincere thanks go to the Future Business Leaders of America club from Newton North High School for bringing a large crew of volunteers. The night was a big win for FRAXA, furthering our ability to advance Fragile X research. And the comeback overtime win for the Bruins made it even sweeter!