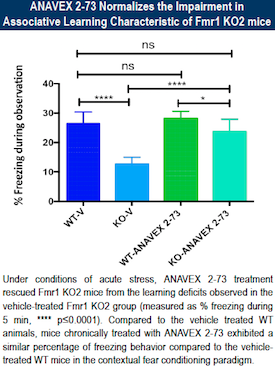 A potential new treatment for Fragile X syndrome is showing promise. While still early in development, the investigational drug was able to improve intellectual, learning and hyperactivity measures in a mouse model of Fragile X syndrome.
Anavex 2-73 is a sigma-1 receptor agonist being developed for autism spectrum disorders, including Rett syndrome and Fragile X syndrome, and for Alzheimer's disease.
Anavex Life Sciences presented the data at the Gordon Research Conference for Fragile X and Autism-Related Disorders, held June 5-10, 2016 in Mount Snow, VT. The study was sponsored by FRAXA, via the FRAXA Drug Validation Initiative, and performed by Fraunhofer Chile Research, in Santiago, Chile.
"The ANAVEX 2-73 data in an array of behavioral paradigms in a validated mouse model of Fragile X is very encouraging. The results are promising for both Fragile X syndrome and Autism Spectrum Disorders, since there is an overlap in the clinical as well as in the underlying molecular pathology of the two disorders. We would be very interested in continuing the work with ANAVEX 2-73," said Michael Tranfaglia, MD, Medical Director, Chief Scientific Officer of FRAXA Research Foundation.