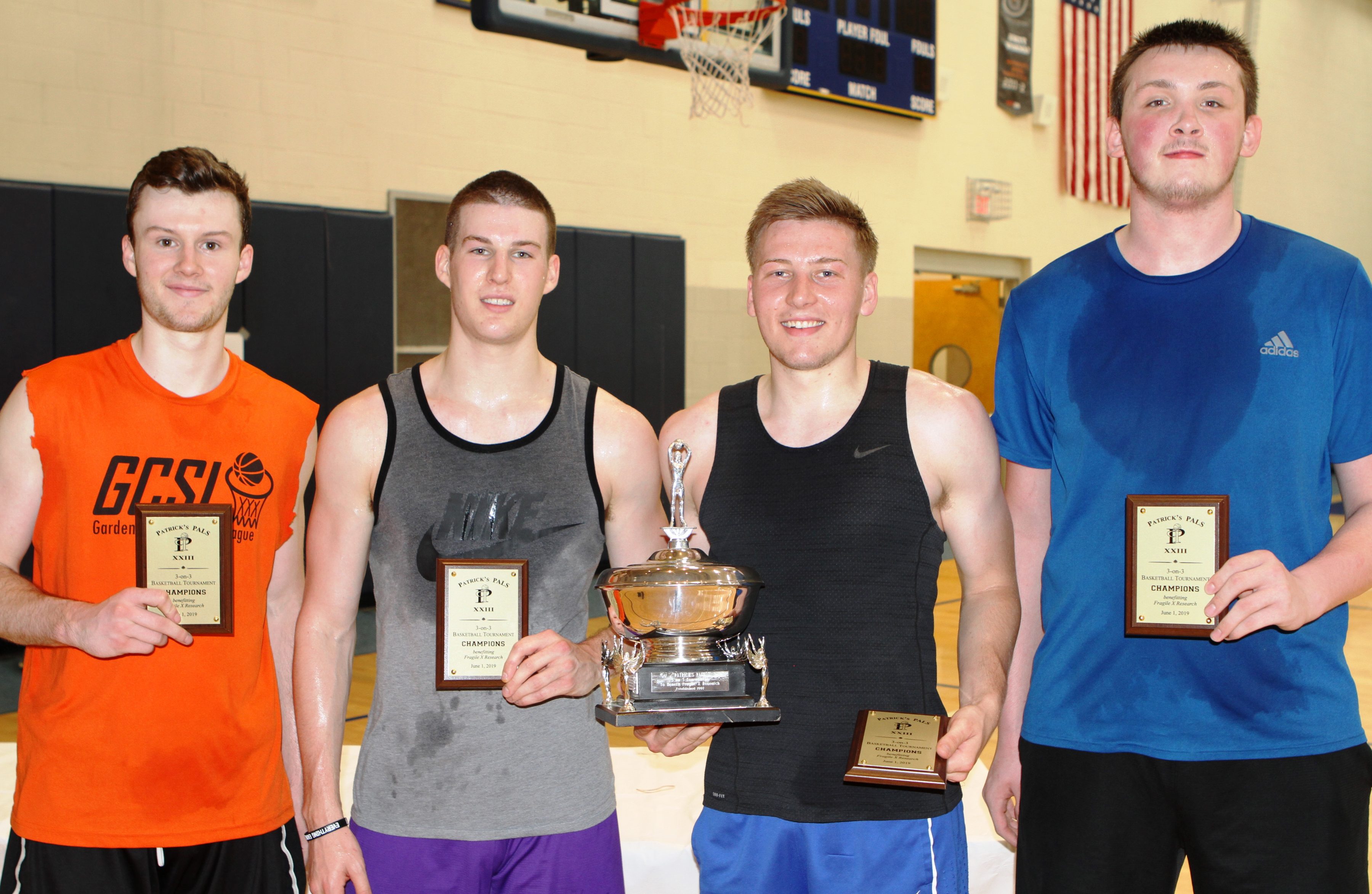 Ethan Wright, Geoff Gray, Eric Demers, Jarred Houston
Patrick's PALS 3-on-3 Basketball Tournament officially turned 23 on Saturday June 1, 2019! Established in 1997, PALS has grown from a twelve-team tournament to a 36-team extravaganza! PALS 23 once again brought familiar entries to the tournament (26 teams captained by previous participants) as well as ten new teams to the mix. And, thanks to the continued generosity of Buckingham Browne & Nichols School, who donated the use of the Jack Etter Gymnasium inside the Nicholas Athletic Center, PALS participants were treated to a first-class facility.
On four half-courts, 18 first-round games set teams on a path to the winners or losers bracket. After that, it was all about staying alive and avoiding elimination by not losing two games. In the end, two veteran teams faced off for the rights to ensure their names would be engraved on the PALS Trophy: the multiple-past-champion Kline Team and the always-in-the-mix Gray Team (pictured above). Gray entered the finals with one loss, so they needed to beat Kline twice. That they did to become the Champions of Patrick's PALS XXIII!
Kline Team – 2019 runner-ups and multiple times PALS Champs
David & Ellen Rosenblatt, 2019 PALS Co-Honorary Chairs
Four half courts; lots of basketball
Once again PALS offered up a full day of fun for players and spectators while raising funds for Fragile X research. Breakfast and lunch were served. A Silent Auction included Celtics and Red Sox and Patriots tickets, as well as a variety of memorabilia. A Raffle guaranteed the winner Red Sox tickets 3 rows from the dug-out; that alone raised $700! Two mid-day contests drew a lot of interest. First there was a 3-Point Shooting Contest (with a record number of entries donating $20 to participate – he or she who shot their way to the title would take 50% of the pot); the winner, long-time participant Michael Kline, captured the prize and didn't hesitate even a second to immediately donate his winnings to FRAXA! A Half-Court Shooting Contest gave everyone a shot at glory and prizes.
Bob Socci (center) with Alyssa Katz, PALS volunteer, and Jim Marks, PALS Committee Member
PAL of the Year Bekah Splaine Salwasser with sons Calvin & Niko
FRAXA Director of Community Relations Dave Bjork, Red Sox Historian Gordon Edes, PALS Committee Member Scott Katz
Bob Socci, the radio voice of the Super-Bowl-Champion Patriots, again attended and was the voice of Patrick's PALS, calling out the next game to be played. And finally, Boston Globe Legend Bob Ryan produced a special edition of his podcast on site with Mike Adams (formerly of WEEI) sitting in for Bob to interview Hall of Fame Hockey Coach Jerry York and former Globe and ESPN Baseball Reporter and current Red Sox Historian Gordon Edes.
Unsung PAL Recipient Kathy Newell, Jim Vershbow, Unsung PAL Recipient Kathy Hogan
In Honor of David Whitney, Patrick's Uncle
Ben Dushku, Aaron Dushku, Fragile X Parent Seth Eisdorfer, and Hungoo Lee, PhD
Opening ceremonies included a speech by Harvard Medical School postdoctoral fellow Hungoo Lee, PhD, who just recently received a grant from FRAXA. 2019 Honorees included Bekah Splaine-Salwasser (Executive Director of the Boston Red Sox Foundation) as our PAL of the Year, David & Ellen Rosenblatt (longtime PALS supporters) for their efforts as 2019 PALS Co-Honorary Chairs, and Kathy Hogan (longtime PALS supporter and ring-leader of lunch supervision) and Kathy Newell (longtime PALS supporter and BB&N liaison who ensures the day-of runs smoothly) who received a new award, the David Whitney Unsung PAL. Pamela Vershbow, Patrick's mom, lost her brother David to cancer this spring after a brave 2-year battle. David was a devoted uncle who supported Patrick & PALS with his love, his donations, and without fail, even while battling illness, his participation as one of the four court monitors. David was universally loved, and sorely missed!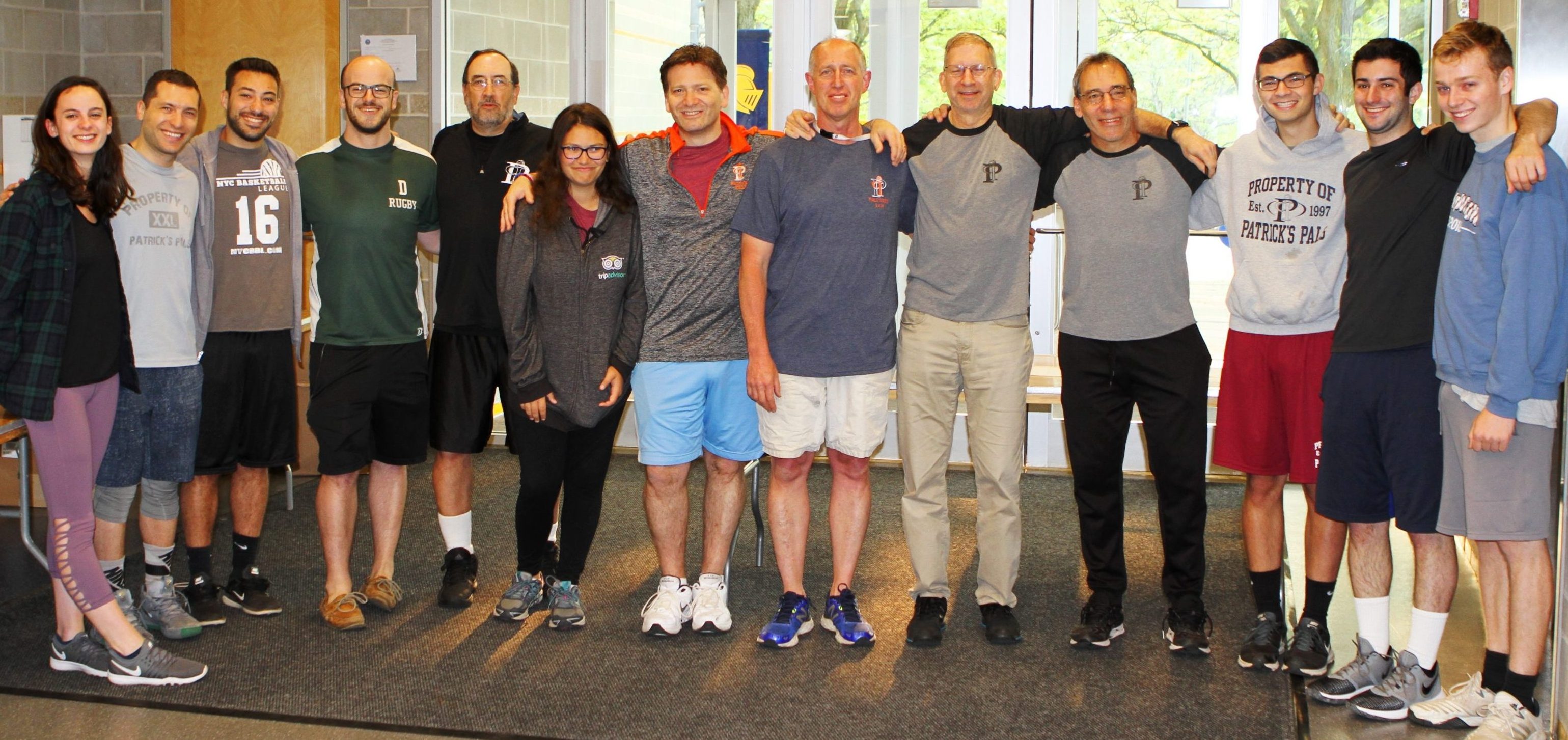 PALS Committee Members and PALS Volunteers, prior to the start of PALS 23
Patrick's PALS 2019 fundraising efforts on behalf of FRAXA have currently raised over $140,000. We are grateful to all our donors, but we would like to offer a special thanks and recognition to Stephen Karp, Jeffrey Lurie and The Lurie Family Foundation, and Nancy Lurie Marks and The Nancy Lurie Marks Family Foundation for their extreme generosity and continued support!
Patrick's PALS 24 is scheduled to occur, as always, on the first Saturday after Memorial Day, on Saturday May 30, 2020.