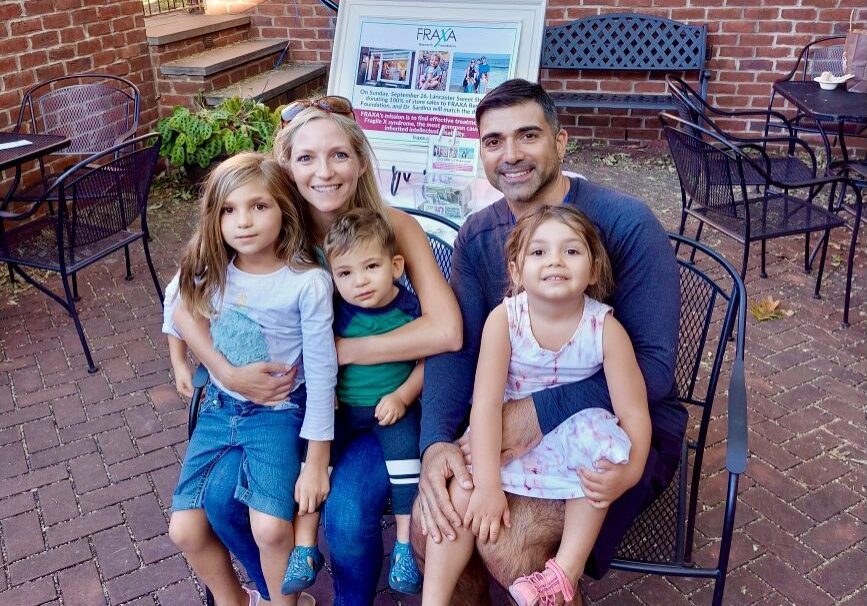 I scream, you scream, we all scream for ice cream! That's what over 100 people said on Sunday, September 26 when the Lancaster Sweet Shoppe in Lancaster, Pennsylvania donated all of its proceeds from the day to FRAXA Research Foundation, in honor of my son, JT.
All said and done, we are investing $15,205.30 in FRAXA's work. My favorite moment from the day was my six year old nephew commenting, "Wow, JT is so lucky! He's going to be rich!" We had to explain to him that the money was being donated to a good cause.
The Lancaster Sweet Shoppe, owned by Jonathan and Jennie Groff, offered to donate their proceeds, making this an easy event to coordinate. Their generosity inspired us as well. Tom is a dentist so we advertised the event at his office and agreed to match all proceeds from the event. (And yes, we see the irony of a dentist advertising a Sweet Shoppe in the office).
JT was diagnosed with Fragile X syndrome in April 2021. He is the youngest of our three children and our only boy. When we learned of his diagnosis, my husband Tom and I knew we needed to get involved and do everything we could to invest in his future. Supporting FRAXA made perfect sense.
Another great part of the event was meeting other families affected by this syndrome. Rosario Cataldo saw the event on Facebook and brought her family and friends. She lives locally and has a son living with Fragile X as well. We also met other families who are close to us, and knowing that we are not alone made our effort worth it.
We are grateful to the Lancaster Sweet Shoppe for supporting us and hope that we can make this an annual fundraiser for FRAXA. My oldest daughter, Addie, certainly hopes so because eating gummy bears for lunch and ice cream for dinner was the highlight of her life so far!
Erin Sardina and her husband, Tom, learned about FRAXA shortly after their son was diagnosed with Fragile X syndrome at 13 months old. As an occupational therapist and mother of three, Erin knew early on that JT had developmental differences and was set on a mission for answers. After receiving the official Fragile X diagnosis, Erin and Tom delved into research mode and discovered FRAXA. Raising money for FRAXA gives them satisfaction in knowing that in addition to his therapies, they are doing everything they can to help pave the way for their son… and that includes funding effective treatments and ultimately a cure. For us, FRAXA means hope for the brightest future possible for our sweet boy.