When biotech companies gather, good things happen.
Especially with disarmingly easy looking lawn games.
The FRAXA Biotech Games exploded onto Cambridge Crossing with a capacity crowd. What was immediately obvious was the genuine camaraderie and mutual support of the biotech community and its many vendors to help raise awareness of and funds for research on Fragile X, the most common inherited cause of autism and intellectual disabilities.
FRAXA seemed to rise in community consciousness almost overnight but the reality was it was hard work. FRAXA Biotech Games founder Dave Bjork said, "Three years ago I had this crazy idea that I would organize an event in Boston that would bring together the Boston biotech community to network in a friendly setting, form new relationships and potential collaborations, while raising money for Fragile X research in Boston area labs. I found several people who shared my vision."
I was one of those dozen or so people who helped guide this exciting event to life. The first year we struggled to get 30 teams onto the oval at MIT, but we raised $30,000. This year more than 96 teams were vying for the 64 places in the competition and we delivered $80,000 which will benefit the Mark Bear lab and the Jeanne Lee lab, both of which do Fragile X research. More importantly, we raised a wider circle of awareness and action.
Why Should You Care?
Time and money put into research today will help deliver health solutions a decade or more from now, perhaps when you yourself might most need it. The people who gathered at Cambridge Crossing recognized that today's cures and treatments for some of the scariest diseases came about only after decades of investment of time and money. Investments made by our parents' generation helps us today.
With Fragile X, it's just a single gene on the X chromosome that shuts down, but even with that knowledge and precise research focus, a resolution has not been found. Resolving Fragile X is likely to help people affected by autism, Alzheimer's, and other brain disorders, but it will take financial investment and years of recurring support and patience.
Community activation and focus led to this success with something as simple as backyard lawn games. The leadership team reached beyond the obvious borders of "only people affected by this disease" to create an anchoring event in which most anyone who heard about it could visualize themselves as a stakeholder or a player. The rewards of this approach were visible in the weeks leading up to the event and continue even now.
Stepping Up to the Challenge
At the outset, two participating companies, Synlogic and Ginkgo Bioworks, raised the stakes with their social media challenge and banter. Bob Socci, the radio voice of the New England Patriots, added gravitas in his on-field interviews. Not many in this particular cohort had met before the event but the location and the community opportunity made it all work.
Mark Roopenian, Managing Director at DivcoWest, in his words of welcome touched upon this key point in the success of the FRAXA Biotech Games and indeed in the growing success of Cambridge Crossing itself. Diversity, access, an open community. I arrived & departed via The Downeaster, Amtrak train. The Green line is right there. The FRAXA Biotech Games at Cambridge Crossing was both a celebration of work accomplished while also being the touchstone acknowledgement that we are all in this together and important work (like finding cures for disease) needs recognition and cheerleading from the community.
In the bigger picture, this concept of an outwardly welcoming cluster has powerful implications for the success of non-profits, small towns, and specialized real estate developments within larger cities.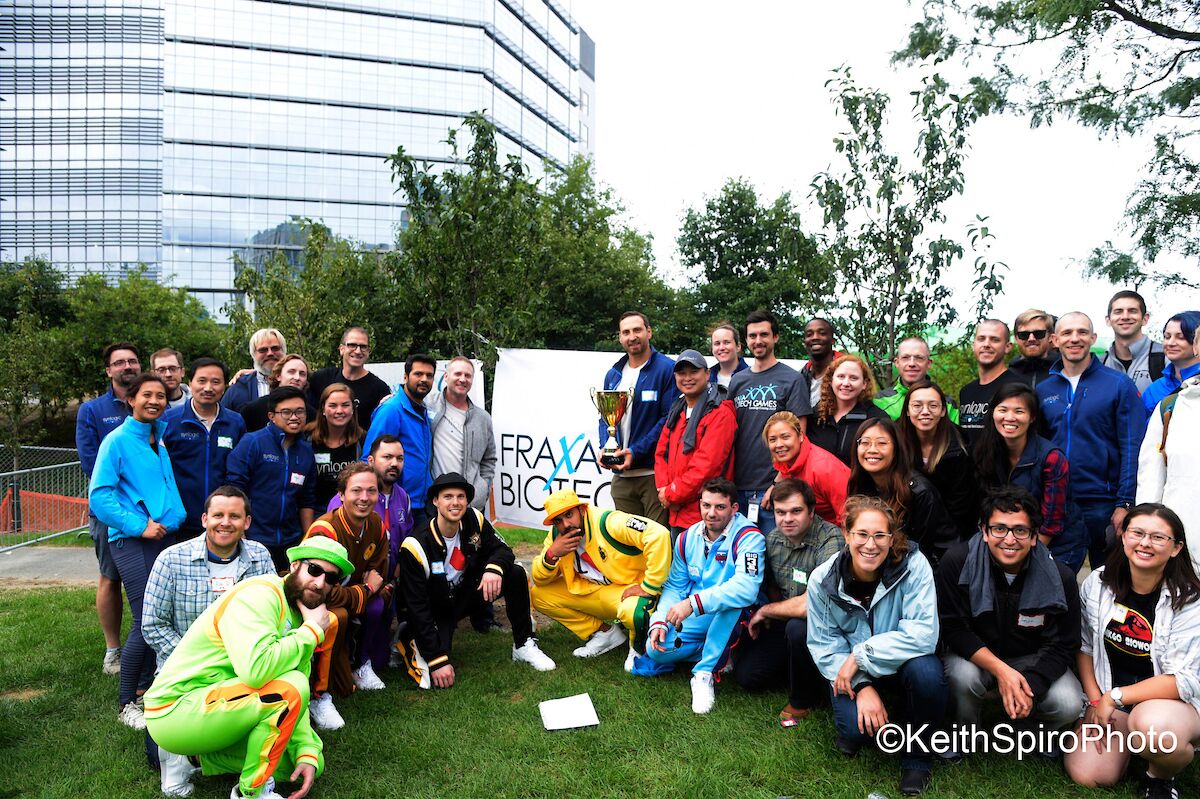 How fitting that, of all the teams assembled, it was Synlogic and Ginkgo Bioworks that "fought it out" in the finals with Synlogic taking home the bragging rights and trophy to proudly display through the next twelve months. I already sense that the good feelings of empowerment and cooperation will continue to pay benefits all year long as teams and organizations are already plotting strategy for the 2020 Games.
If you'd like to be part of this – we are already recruiting for next year's lead sponsors and volunteers. Game signups will be available in the spring. Stay informed by signing up here.