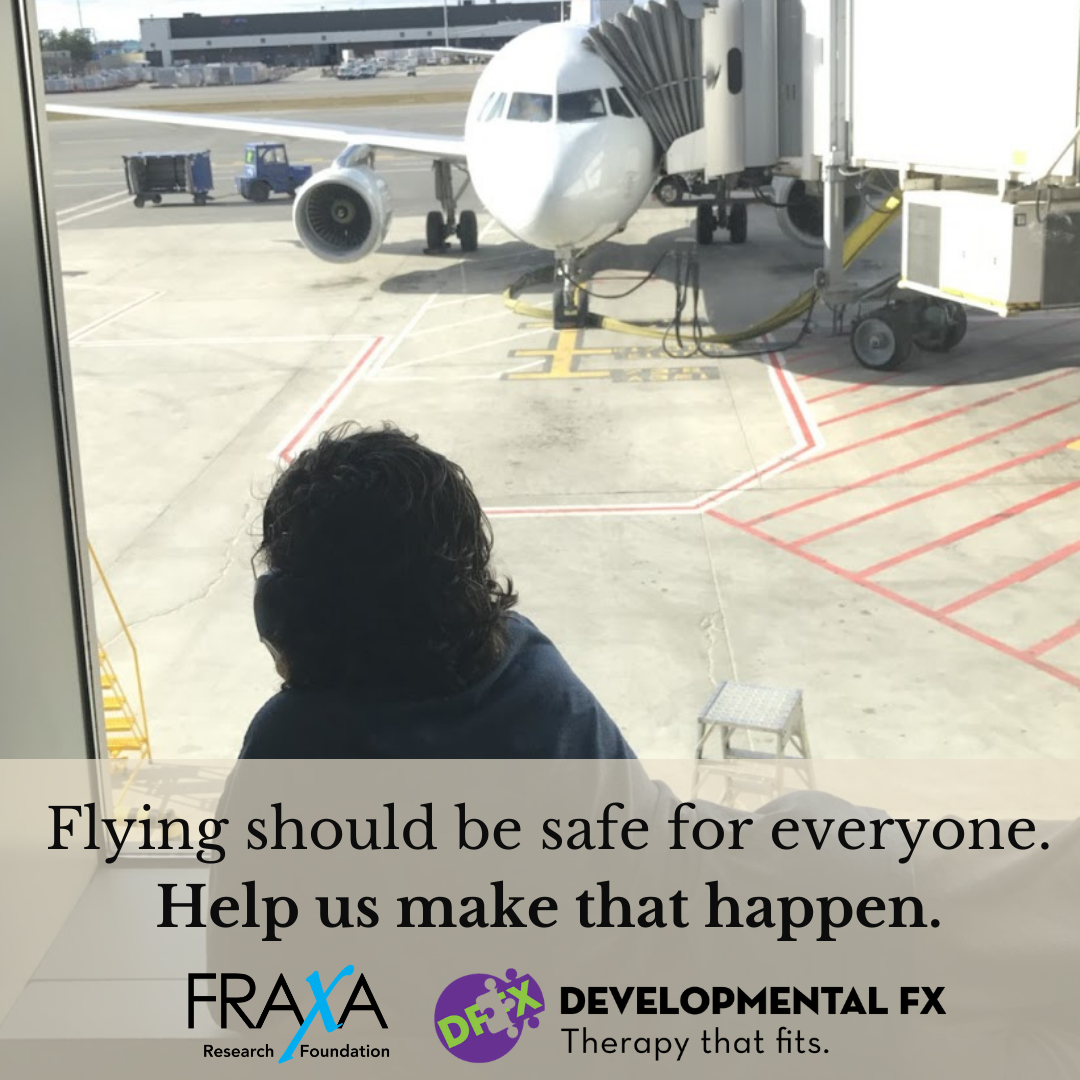 Recent events have shed light on the challenges those living with Fragile X syndrome face while traveling via air. FRAXA Research Foundation and Developmental FX have joined together to advocate for systemic changes that will alleviate the barriers those with Fragile X face while navigating the booking process, airports and in-flight experience.
If you wish to participate in a letter writing campaign you can copy the letter below and start sending it the CEOs listed at the bottom of the page. If you receive a response, please share with Holly Roos at hroos@fraxa.org. Additionally, if you have any resources you've utilized during air travel or simply want to stay informed, also reach out to Holly.
Sample Letter to Airline CEO's
Simply copy and paste the text below into an email or the online submission form to any airline CEO you wish to reach out to. A life of airline CEO's and their contact information is below.
<insert date>
Dear <insert name of CEO>,
My name is <insert name>, and I am writing as a <insert your role. Mom? Dad? Aunt? Friend?> and advocate for those living with Fragile X syndrome. Fragile X syndrome is the most common cause of inherited intellectual disability. It is an invisible disability that can cause speech delays, sensory processing disorders, severe anxiety, attention deficit hyperactivity disorder, and many other co-occurring conditions.
Those living with Fragile X syndrome face many challenges in their daily lives, and sadly, it can be difficult for them to enjoy air travel. One of our community members and his daughter recently had a traumatic experience on a Delta airlines flight, and because of this, our community is rallying to help the airline industry understand our experiences and how we can work together to make it easier for those living with Fragile X to fly.
Our asks are simple and outlined below.
We ask <insert airline> to make sure the booking process allows a passenger to note if they have a cognitive/developmental disability or mental health issue.
We ask <insert airline> to ensure that the cognitive/developmental or mental health issue is discreetly noted on the traveler's record so that airline staff are aware of the passenger. Perhaps a special note on the manifest can help alert them to the presence of a passenger with special needs.
We ask <insert airline> to require all employees who interact with passengers to participate in training that helps them better support those with cognitive/developmental disabilities and/or mental health concerns. This training can be made available via recording at your request. Experts at Developmental FX are prepared to help.
This is an opportunity for <insert airline> to demonstrate leadership. Existing challenges with air travel can be remedied and systemic change instituted to have information, systems, and communication that allows all passengers and clients, regardless of ability or individual quality, to experience human safety and dignity in the service of equity and inclusion.

I welcome your response and questions and request for our support to address this need.
Airline CEO Contact Information