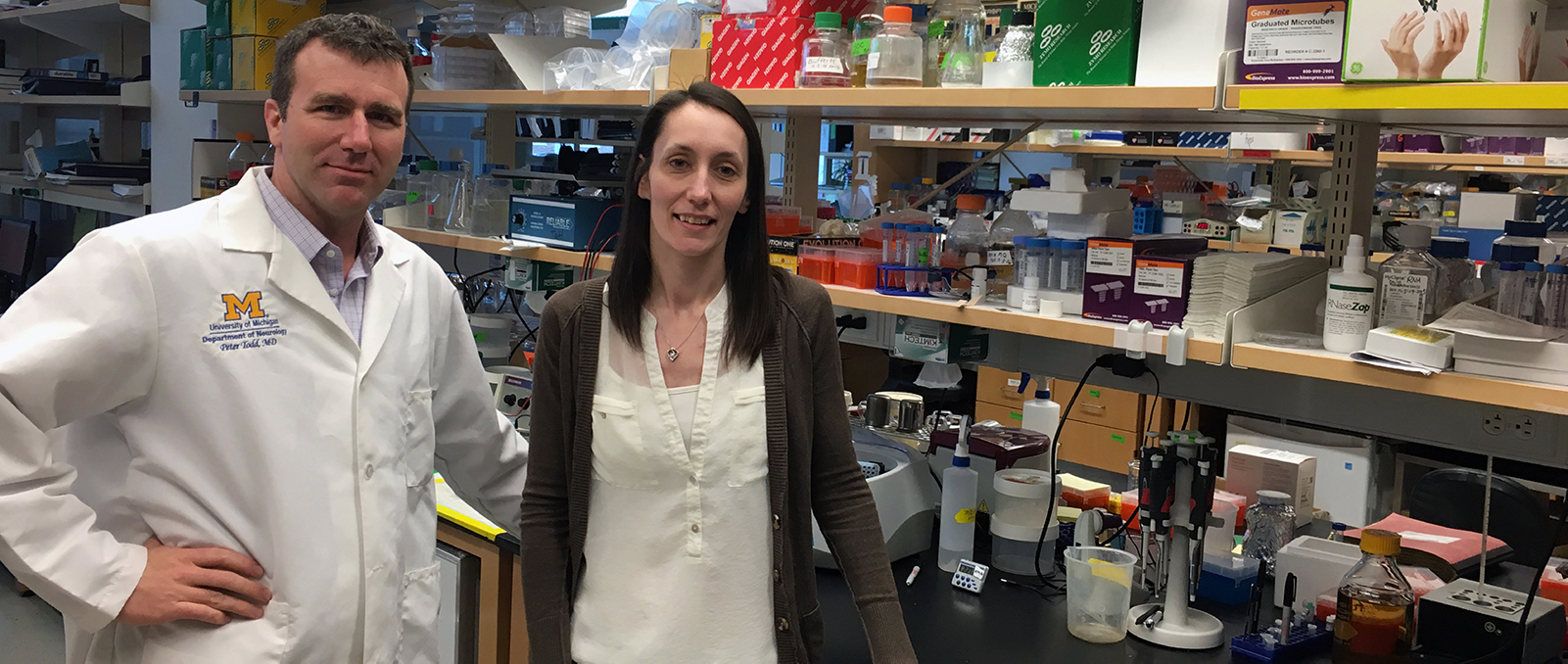 Peter Todd, MD, PhD and Postdoctoral Fellow, Jill Haenfler, PhD, at the University of Michigan
"Never doubt that a small group of thoughtful, committed citizens can change the world; indeed, it's the only thing that ever has."
One of our favorite quotes at FRAXA is this one by Margaret Mead because it so defines the power each one of us has to bring about change.
It is in this spirit that we recognize Laureen Sienko Majeske and her colleagues at the Fragile X Association of Michigan (FXAM).
Theirs was an effort by a small group of thoughtful, committed members of FXAM to be sure. Frank and Nina Liberati identified and developed a connection to the grant source and helped with the proofreading. Sheryl Roman compiled the background information needed and Laureen and Dr. Todd collaborated on the grant application. The entire project took months!
But it was hard work well worth the effort. After writing and revising (and revising), FXAM was awarded a $35,000 grant which the Michigan Fragile X group will now direct to Dr. Todd's ongoing Fragile X research involving CRISPR!
If this sounds at all familiar it's because Dr. Peter Todd was recently awarded a 2-year FRAXA research grant to explore using CRISPR to selectively turn the silenced Fragile X gene back on in cells. We all know that this kind of cutting edge research is expensive. Grants like this are designed to advance the work of those conducting promising FX research and to assist them in securing additional funding.
That's why we're so excited about this creative, grass roots approach to funding FX research. FRAXA was unaware of Laureen's work but we'd love to learn more about it to see if it might be replicated by others. We are most grateful for the hard work of Laureen and her colleagues at FXAM and to Dr. Todd for helping to guide them along the path to private grant funding.
Great Work Fragile X Association of Michigan! Thank you!