With a $75,000 grant from FRAXA Research Foundation from 2003-2004, Dr. Richard Carthew and his team at Northwestern University studied their interest in gene expression by investigating the role of the recently discovered process of interfering RNA (RNAi). FMRP appears to be involved in the metabolism of RNAi, and may have a role in regulating the process; likewise, deficits in RNAi may contribute to the disease process in Fragile X.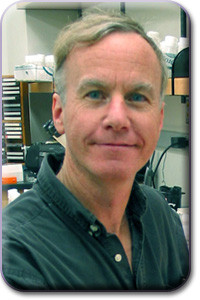 Richard Carthew, PhD
Principal Investigator
Young Sik Lee, PhD
FRAXA Postdoctoral Fellow
Northwestern University
2003-2004 FRAXA Research Grant
$75,000
Project Summary
by Richard Carthew, 7/1/2004
Two years ago, several papers were published showing that the Fragile X gene is involved in RNAi ("interfering RNA"). RNAi is a widespread biological process that until 1998 remained undiscovered, but that plays important roles in combating viral infection, organizing chromosome DNA, and silencing gene expression during embryo development. A major question now being asked is how the Fragile X gene normally contributes to the RNAi process. Moreover, does Fragile X syndrome arise because human RNAi is working improperly, due to the absence of FMR1?
Our lab studies RNAi in the fruitfly and has done some incisive experiments to understand this conserved process in both flies and humans. So far, this study has not found definite links between the fruitfly FMR1 gene and RNAi. However, not all potential avenues linking FMR1 and RNAi have been explored. Additional experiments to be conducted over the coming year should give us a clear idea of whether or not there is a general role for the Fragile X gene in RNAi. This is an important mechanism of biological control, so it is important to know whether Fragile X might in any way be related to RNAi.