2017 Update by Sidney Clark
Dear Friends and Family,
Lately we have been surrounded by so many devastating occurrences. Terrorist attacks, hurricanes, earthquakes, floods and fires have occurred one after another, and it seems like the world hasn't had time to catch up. For a moment, I want you to put yourself in the head of one of the victims of these devastating occurrences. We are surrounded with external stressors that are beyond our control. You might feel overwhelmed, shocked, and left not knowing how to deal with the present situation.
This is how my brother Lucas feels on a daily basis when triggered by seemingly insignificant things. If the food Lucas wants isn't available, if his headphones are wrapped imperfectly around his phone, or if he is rushed anywhere, Lucas feels like his world is falling apart and immediately breaks down. Visiting a doctor for medical attention is traumatizing for him and he stresses and wails for hours knowing about any impending visits.
The victims of natural disasters and terrorist attacks are given a second chance through government programs and significant funding, so they can recover because the problem they face has a known solution. However, kids and families living with Fragile-X are forced to endure the same problems over and over because there simply is no solution yet.
While I hate focusing on the negative aspects of living with my brother's disease, I've recently come to believe that facing your flaws head on is the best way to change them. Before I go on I want to stress the amount of love that I have for my brother. Hearing his voice over the phone in his sweet, high-pitched voice saying, "Hi Sydney, how are youuuuu?" is something that I cherish every day. I love coming home from college to bake cakes with him, see the newest additions to his truck collection, and know that I will always have someone to watch a Christmas movie with no matter what month of the year it is.
Each year my parents approach me asking if I will write this newsletter, and every year I respectfully decline. It's not because I don't want to spread awareness about my brother's disease, or that I'm uncomfortable asking people to donate to the cause, but because I feel that this newsletter tends to focus on the negative aspects of life with Fragile-X sibling. When I was too young to understand, I used to get mad at my parents for wanting to find a cure. I couldn't imagine my little brother in any other way, and was offended that they wanted to change him. When I think of Lukie, my precious truck-loving, cake-baking little brother, I want to see him for the qualities I love about him rather than his flaws.
I now understand that my parents don't want to change Lucas though; they just want to make life easier for him and others like him, and help make to him a productive member of society.
A normal, working brain is something that all of us take for granted. If you're reading this, you already have an advantage over kids living with Fragile-X. Please help us fix this one simple broken gene and help these people that struggle with this rare disease, like my brother.
Sincerely,
~ Sidney Clark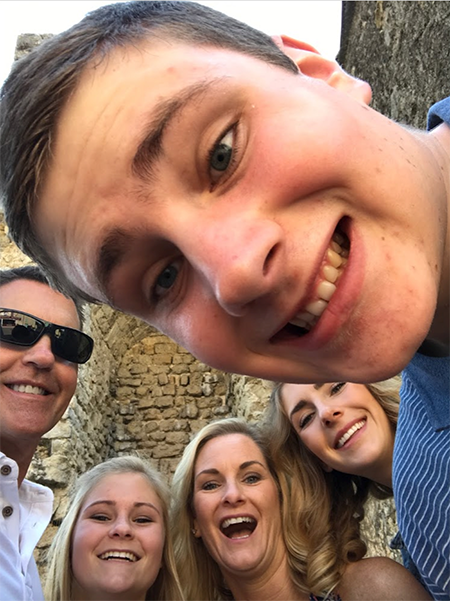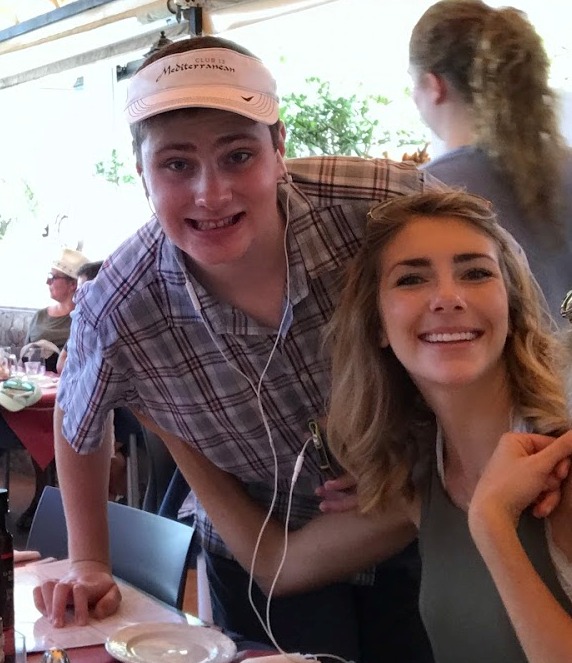 2017 Update by Courtney Clark
11/17/2016
Where's Angel?" Lucas asks, over and over, when he is upset. After thirteen years, our saving grace of a service dog named Angel passed away in April. Angel literally opened doors for my family to enjoy a normal-ish life. She stopped Lucas from running into traffic, kept him from wandering away on walks, and gave him a level of comfort in tough environments like restaurants. She helped teach him social skills, as people approached Lucas to pet his dog.
This has been a year of losses for Lucas. He "graduated" from Dougherty Valley High School in June, receiving a Certificate of Accomplishment. Now he takes part in a transitions program at Del Amigo High School. It was the only option offered to my parents to continue his education.
Lucas has trouble comprehending the absence of someone or something close to him. He repeatedly asked my parents where my sister was, after she left for college, and now he does the same for me. My excitement about heading off to college this fall dwindled because as move-in day approached, the stress of deciding what to do with Lucas plagued my parents and me. We knew leaving him home would upset him, so in the end, we brought him along. He just huddled in the corner of my dorm, watching videos of garbage trucks emptying trash cans.
Perhaps it's his replacement for Angel, but Lucas has found comfort in the internet when we go out. He streams videos (rewinding and playing) and shops for toy trucks, tractors and trailers. Another new obsession, however, is connecting to WiFi. If he sees a WiFi signal on his phone and we can't get the password, he gets incredibly agitated. He will moan, rock, cry, and ask anyone nearby for a password.
For many years, my family prayed to be able to enjoy a meal at a restaurant. This may seem trivial, but going out in public with kids like Lucas with Fragile X Syndrome can lead to disruptive meltdowns. Maybe we should have been careful what we wished for: now Lucas is obsessed with eating out. Dinners at home are simply not enough. At every home meal he will say "Like it", which actually means he does not want to eat what is in front of him. Confusing, right? He is like a puzzle we are constantly deciphering, piece by piece.
Despite Lucas sometimes pushing us to our limits, I know that my family would not be as close without Lucas. He teaches us patience and how to appreciate the little happy moments in life. We have learned how to sacrifice and go with the flow. My twin's smile lights up my world and I do not know what I would do without him.
Every year we look to you, our friends and family, to help fund research for Lucas's rare disease. New treatment targets FRAXA is investigating now look very promising for Lucas. By donating to FRAXA, you are contributing not only to a better future for Lucas and my family, but to help every other person affected by Fragile X Syndrome. We sincerely thank you for your donation!
Sincerely,
~ Courtney Clark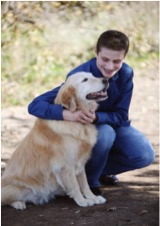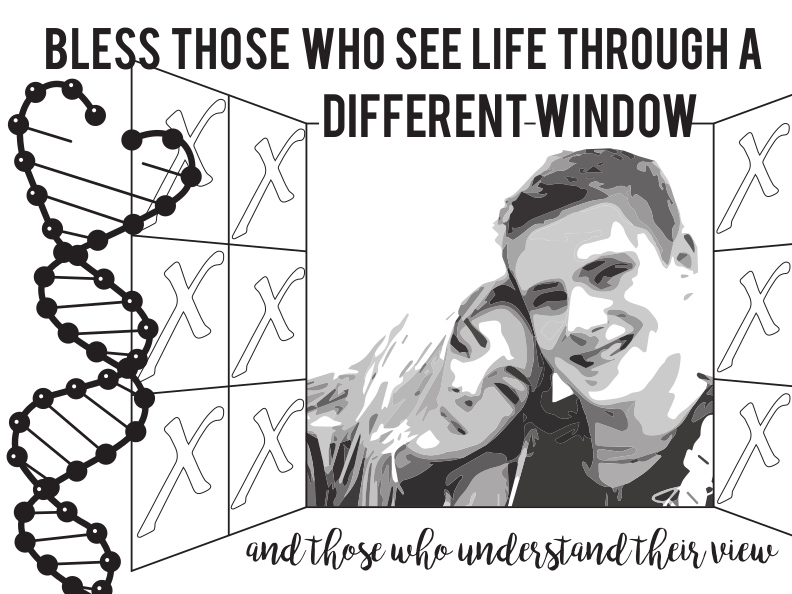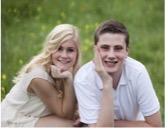 AWESOME ($2500+)
Dwight and Glee Ann Davis
Thomas and Linda Leonard
PLATINUM (1000+)
Charlie and Jessica Nichol
Bob Schramm
GOLD ($500+)
Dean and Stefanie Clark
Jo-Anne and Scott Rively
SILVER ($200+)
Don George
Jacque Lovett
Garry and Chris Samuels
BRONZE ($100+)
Carol Amaral
Aldo Barbaglia
Hans Bernhardt
Julie and Rich DeBorba
Tony and Kathy Borba
John and Linda Connolly
Linda and David Danis
John and Lynne Egan
Mr. and Mrs. Jon Elfin
John and Linda Fosseen
Jerry and Carol Gaustad
Robert Goodrich, II
Kimberly Hill
Mei and Ming Hsu
Christine and Brad Knapp
Thomas and Ginger Marckwardt
Joseph Maloney
Tom MacKay
Agnes O'Neill
Andy and Katherine Wenger
Carole Wenger