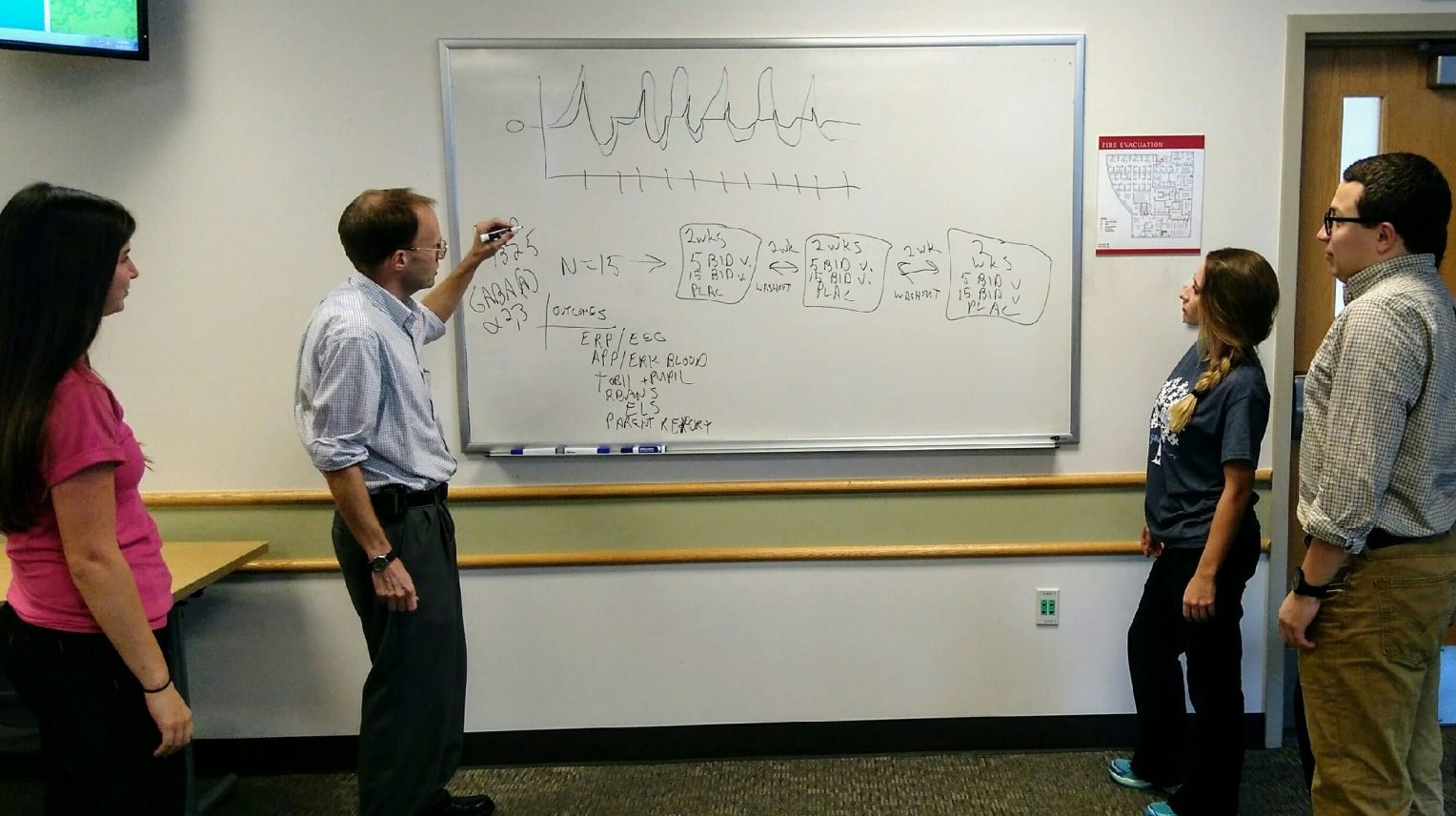 As a teenager, Craig Erickson, MD, would volunteer at summer camps working with children and adults with developmental disability.
He quickly knew he wanted to make a difference in the lives of people with autism and related disorders. And then he met campers with Fragile X syndrome.
His life changed forever.
"I went on to medical school knowing these are the populations I wanted to serve," said Dr. Erickson, associate professor, College of Medicine, University of Cincinnati. "I initial trained in the field of autism treatment development and then spun off 12 years ago to specialize in the wave of amazing new Fragile X research showing some real clues to aide targeted treatment development. I am lucky to have patients and research participants in our work with Fragile X who were my summer campers over 25 years ago."
Why is Fragile X Brain Activity Out of Balance?
According to Dr. Erickson, AZD7325 is a drug that selectively boosts GABA neurotransmission in the brain. GABA is the primary neurochemical in the brain that blocks brain activation. GABA activity is in balance in the brain with Glutamate activity, which is the primary neurochemical that causes brain activation. In Fragile X, GABA activity is insufficient and glutamate activity is excessive, likely causing brain activity to be out of balance. AZD7325 attempts to correct parts of this imbalance by boosting the insufficient GABA activity in the brains of people with Fragile X.
Dr. Erickson is looking for adults with the full Fragile X full mutation aged 18 to 49 years old to participate in a trial. If you are interested in learning more, email him at fragilex@cchmc.org.
"If all goes well, this trial will provide the data needed to do a larger-scale study of this same drug in Fragile X that could lead to hopeful future approval of this drug for use in Fragile X," said Dr. Erickson, who earned his MD degree from the University of Cincinnati and a MS degree from Indiana University. "Results will guide moving the study of this drug in future pediatric trials in Fragile X. The methodology will help inform future clinical trials in Fragile X. We are developing techniques to address problems from past trials to match a specific individual to a specific drug under investigation that may provide them with the best chance of a positive treatment response."
GABA is one of many Fragile X research projects designed to improve treatment development in the field. Understanding changes in development over time is critical to future treatment success.
"We have identified abnormal EEG patterns in Fragile X and we think correcting these patterns will improve outcome," said Dr. Erickson, inventor or co-inventor on many patents focused on translational treatment development in neurodevelopmental disorders. "We are incorporating these same EEG tests in our AZD7325 trial."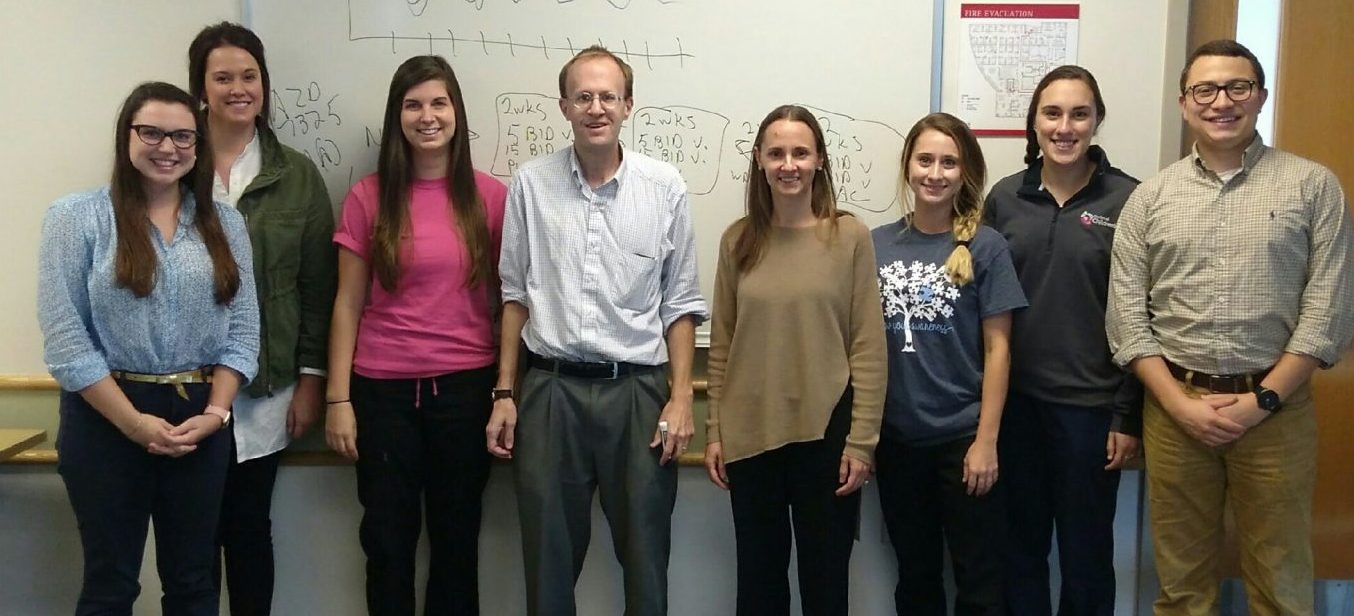 Best of Both Worlds
Clinically, Dr. Erickson sees more than 400 families impacted by Fragile X from around the United States. His research and clinical work are inseparable. His goal is to develop new treatments to improve outcomes in the same patients in his ongoing clinical care.
The biggest potential benefits of his work are taking a large leap toward AZD7325 becoming an approved drug for Fragile X syndrome and informing and supporting future Fragile X trials by understanding a drug's impact on brain activation.
FRAXA Fills a Critical Gap
Dr. Erickson is grateful to FRAXA for its generous support of his research.
"We would not be where we are today without FRAXA support," Dr. Erickson said. "My Fragile X research career began with FRAXA funding for a clinical trial targeting agitation some people with Fragile X have. FRAXA fills a critical funding gap to get research jump started, often at early stages. We cannot solely rely on large public agencies to cover all the bases in supporting effective new treatment development in Fragile X. FRAXA provides the Fragile X-specific interest necessary to fund high yield early stage work that may not fit the requirements of public agency funders.
"FRAXA has been invaluable to our work and without FRAXA the Fragile X research community would not be developed to the degree the field sits today, poised to bring new and innovative treatments forward despite some past large-scale trial failures. FRAXA should keep doing what they are doing — filling a critical research funding niche and promoting the work of scientists entering the Fragile X field.
"Moving toward Fragile X specialization has been the best move in my professional career. The Fragile X community has embraced me and my group's collective work in the field. I feel completely at home in the Fragile X world whether talking to Fragile X basic scientists, clinical scientists, clinicians or impacted families."
Or summer campers.