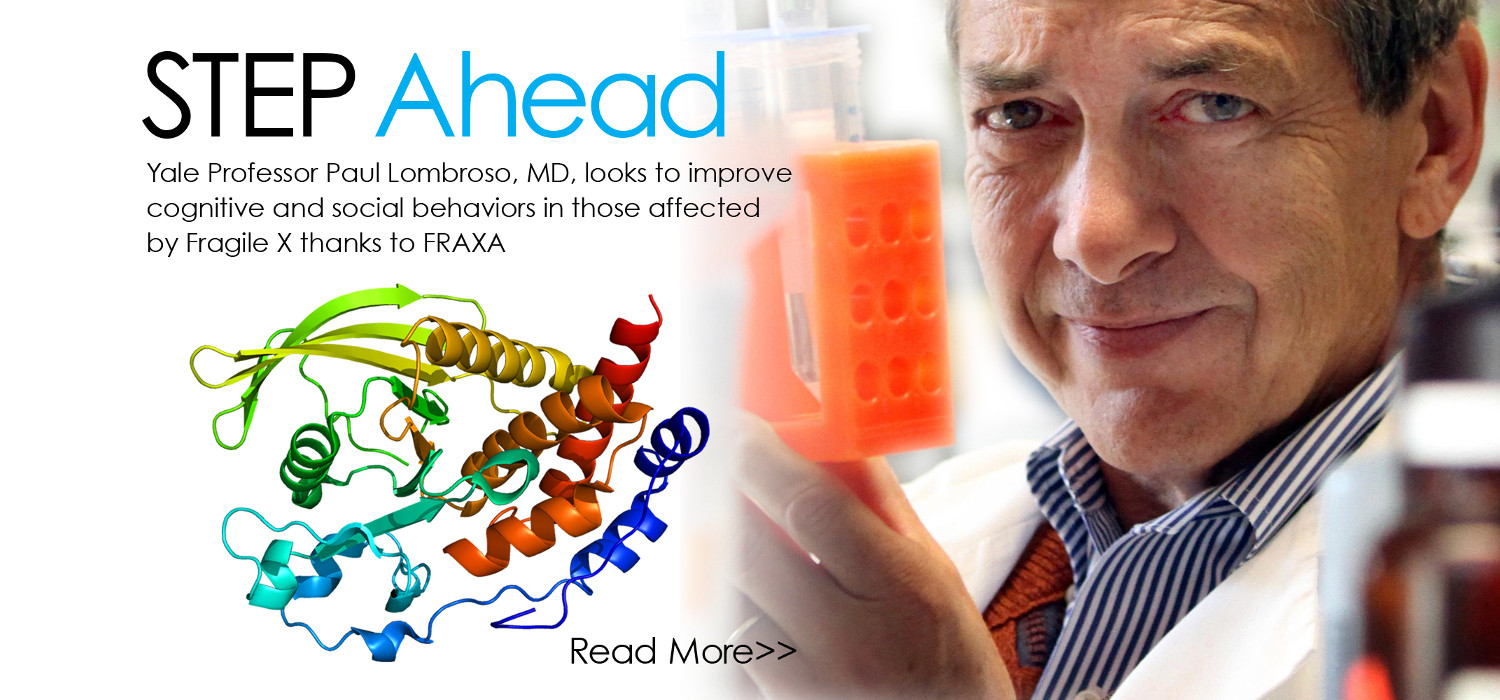 Yale Professor Paul Lombroso, MD, looks to improve cognitive and social behaviors in those affected by Fragile X thanks to FRAXA support
It's been 25 years since Paul Lombroso, MD, first discovered the STEP protein (STriatal-Enriched protein tyrosine Phosphatase).
In its simplest terms, STEP
is a protein found only in the brain;
is critical as people learn and develop social behavior;
impacts how short memory becomes long-term memory; and
regulates synapsis strengthening and intracellular signaling.
When STEP elevates, as occurs in those with Fragile X syndrome and many other disorders, it significantly impacts cognitive and memory development and social behaviors.
"My first decade of research was to understand STEP," said Lombroso, the Elizabeth Mears and House Jameson Professor in the Child Study Center and the Director of Laboratory of Molecular Neurobiology, Yale University. "What was it doing in the brain …. what was it regulating?"
Now Lombroso is engaged in translational neuroscience with a focus on Alzheimer's disease, Fragile X syndrome, schizophrenia and Parkinson's disease. His lab employs various biochemical, molecular, immunocytochemical and behavioral techniques in pre-clinical models to address the role of STEP in each of these devastating illnesses. His lab is characterizing STEP in pre-clinical models, as well as to find novel STEP inhibitors.
With continued financial support from FRAXA, Lombroso is testing whether the high levels of STEP is disrupting synaptic function in the brain and whether it is contributing to the cognitive and behavioral deficits that occur. Part of this effort is to discover new therapeutic agents that might someday lead to drugs to be tested in new clinical trials. It's a full circle where new scientific knowledge is learned along the way and funnels back to the laboratory.
The process is slow, though.
Very slow.
Typically, it takes five years or more to advance to a clinical trial.
In 2014, Lombroso and Susan Goedel-Goody, his post doctoral student at Yale, decided to lower STEP levels in mice to see if this had any impact. Genetically altered mice tested with reduced STEP levels had significantly lower seizures and cognitive deficits and social behaviors were improved in their preliminary findings. These findings were exciting, as they suggested that finding a STEP inhibitor to block STEP activity might be useful. That is currently a major focus of his laboratory.
"Right now, we are researching the TC-2153 compound as a STEP inhibitor," said Lombroso, who is a molecular biologist and child psychiatrist, and received his BS from Harvard University in 1972 and MD from Albert Einstein Medical School in 1975. "There will be other compounds researched. I am very optimistic over the next few years companies will come up with more effective treatments than what is out there now.
"I am also really hopeful other researchers will jump on board and help move this research forward and bring a therapeutic drug to the market where cognitive deficits occur."
For parents of children with Fragile X syndrome, that activity will be a welcomed STEP ahead.