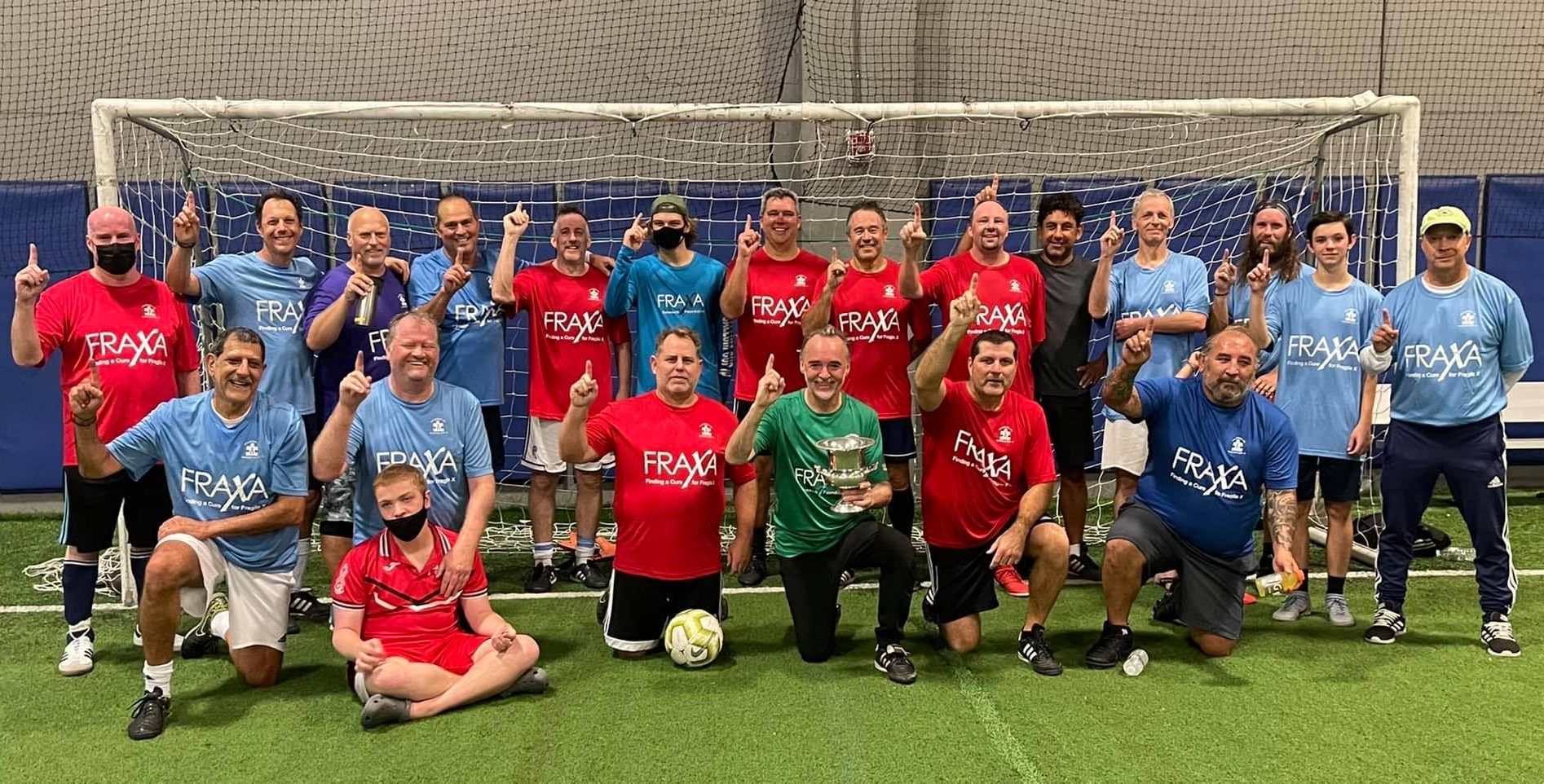 EAST BRUNSWICK, NJ: After a one year hiatus, due the COVID-19 pandemic, the Callum Cup made a triumphant return last month.
This annual intra-club charity match is the marquee event of the Millburn FC soccer calendar. The game being played in honor of Callum Murphy, the son of Andrew Murphy, one of the club's goalkeepers. Now in its 6th year, the 5 Callum Cup matches have now raised close to $75,000 for Fragile X research.
Callum Murphy was diagnosed with Fragile X, when he was 2. Now a sophomore at Bridgewater-Raritan High School in Bridgewater NJ, Callum is an extremely cool, laid back young man, who enjoys his iPad & trips to local zoos.
This year, Callum's family, friends & the players of Millburn FC raised well over $20,000.
Usually played at Millburn's home ground, this year's charity showdown was played at The Fields Sport Complex in East Brunswick NJ, thanks to a generous donation from the owners of the facility. Callum Cup V marks the first time the match has been played indoors.
The match itself was, as usual, a hard-fought, competitive match with the usual friendly overtones. The game came right down to the wire with the Reds beating the Blues 7-6.
The custom-made shirts for the Callum Cup were created by the great folks at Spectrum Designs of Long Island NY. The company does stellar work & employs very talented, autistic individuals. Spectrum Designs also have an excellent social media presence, capable of promoting events, such as Callum Cup V.
The post-match celebrations continued at one of East Brunswick's most famous watering holes, The Grove, where pizza & beer completed a great day out.
Millburn FC look forward to Callum Cup VI & with it, the good feelings, the funds & the hope that comes with such a great event.