New York University scientists make progress developing biomarker signatures and cataloging the types of Fragile X patients who will most likely benefit from new therapies
Take a closer look at your son or daughter with Fragile X syndrome. If you meet another child with Fragile X syndrome, chances are he/she may seem totally different to you, yet everyone is united under a FXS diagnosis. Discovering the biological reasons behind these differences is key to identifying which children will respond to what treatment. But how do you find the 'prediction formula'?
New York University scientists may soon know.
Co-Principal Investigators Eric Klann, professor, NYU Center for Neural Science, and Aditi Bhattacharya, Independent Investigator, Center for Brain Development, inStem, Bangalore and Heather Bowling, PhD, a post-doc fellow, are working together in the second year of a FRAXA-funded study to develop reliable and relevant biomarkers to examine new therapeutics.
Their current research is based on how each person with Fragile X is different on a personal and biological level although all have the same clinical diagnosis. Surveying how 'different' people with Fragile X are at the molecular level and in a key cellular process helps the scientists to identify and catalogue subgroups of patients. Using these molecular signposts helps gather more information about FXS over time independently from behavioral tests, with an added benefit of increasing overall FXS understanding.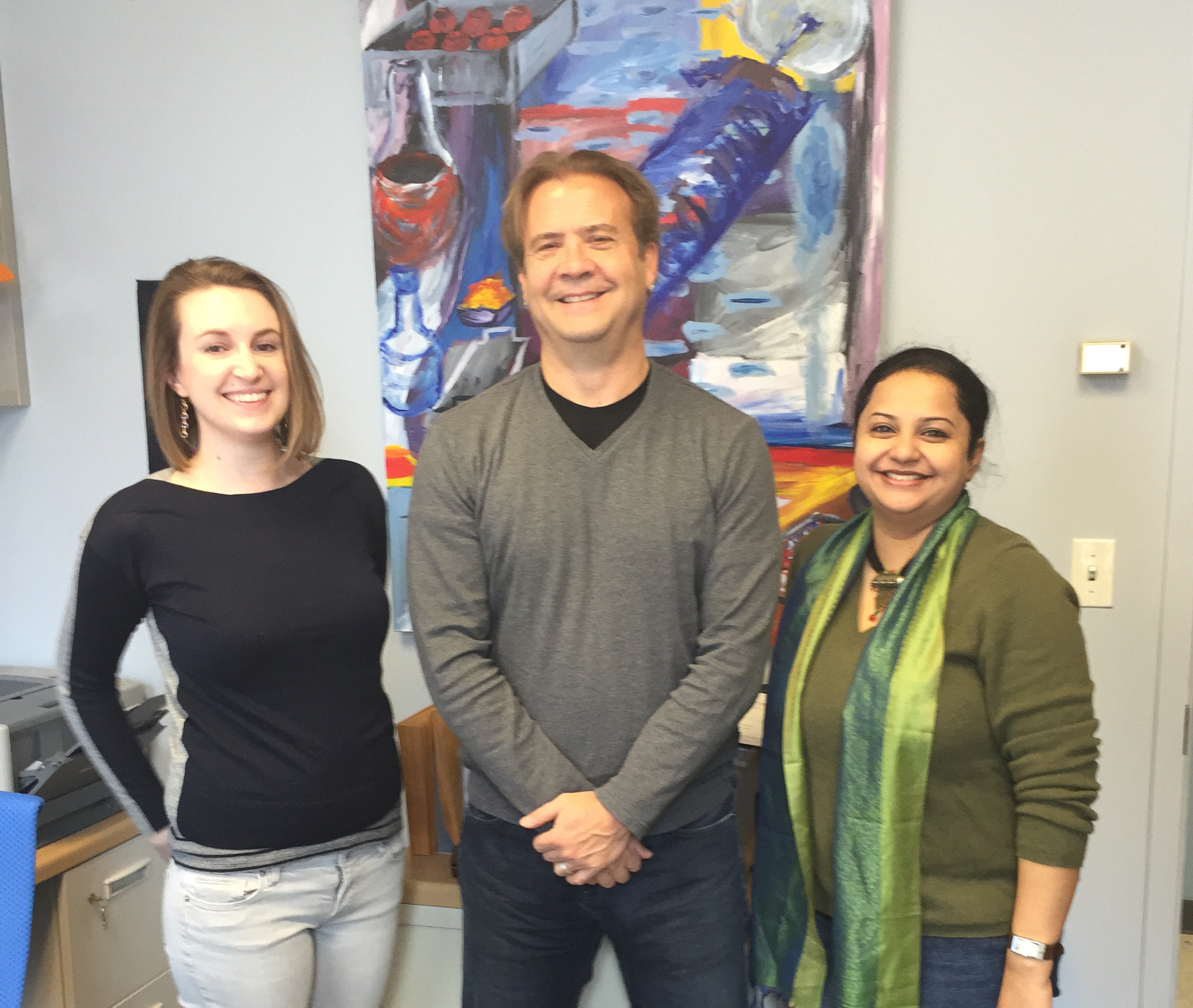 Dr. Heather Bowling, Dr. Eric Klann, Dr. Aditi Bhattacharya
Companion Diagnostics
Their goal is to develop biologically based methods of predicting which patients with Fragile X will respond best to new therapies and how to measure their treatment response with an unbiased blood, urine or saliva test.
"The tests we are developing are commonly referred to as 'companion diagnostics,'" Bhattacharya said. "Just like a person with breathing problems can be monitored using a breath test at every doctor's visit even if the worst symptoms are not present on the day, our tests will provide a behaviorally independent measure of how a person is responding to a therapy and predict who can enroll for a certain trial. If all goes well, it may mean more medicines available and knowing whom will most benefit from them."
Thanks to FRAXA support, the scientists are able to network with other researchers from around the globe to transform research from bench to bedside.
"FRAXA is special," Bhattacharya said. "FRAXA grants power our research. The meetings power collaborations and help us identify how researchers can best serve the needs of the FXS community. FRAXA helps us to focus our research on the most pressing questions."
Bhattacharyya believes changes in cellular processes such as protein synthesis and metabolism are a hallmark of FXS and a natural choice for their research.
"FXS research has raised our awareness of neurodevelopmental disorders and how what we do in our lab with a test tube can make a real difference in people's lives," Bhattacharyya said. "We would like to thank the patient community for their continued support of research initiatives."
The Team
Prof Eric Klann is Professor at the Center for Neural Science at NYU. He is multiple FRAXA grantee in the past decade and is a leading authority on how eccentric protein synthesis underlies disease pathology in many neurological conditions.
Dr. Aditi Bhattacharya has been a previous FRAXA investigator and is now a team leader at the Center for Brain Development and Repair, inStem-NCBS, in Bangalore, India. She is interested in understanding how protein synthesis and signaling changes parallel each other in early development and in small circuits of the brain. She is also a firm believer in doing translational research which transform basic research findings to real-world applications.
Dr. Heather Bowling is a post-doctoral fellow at the Klann lab with previous experience in Spinal Muscular Atrophy, Rett Syndrome and schizophrenia. She has been a consultant for CytoDel and a Harlem BioSpace associate. She is committed to developing usable solutions to further the quest for better diagnosis and treatment of neurological disease.