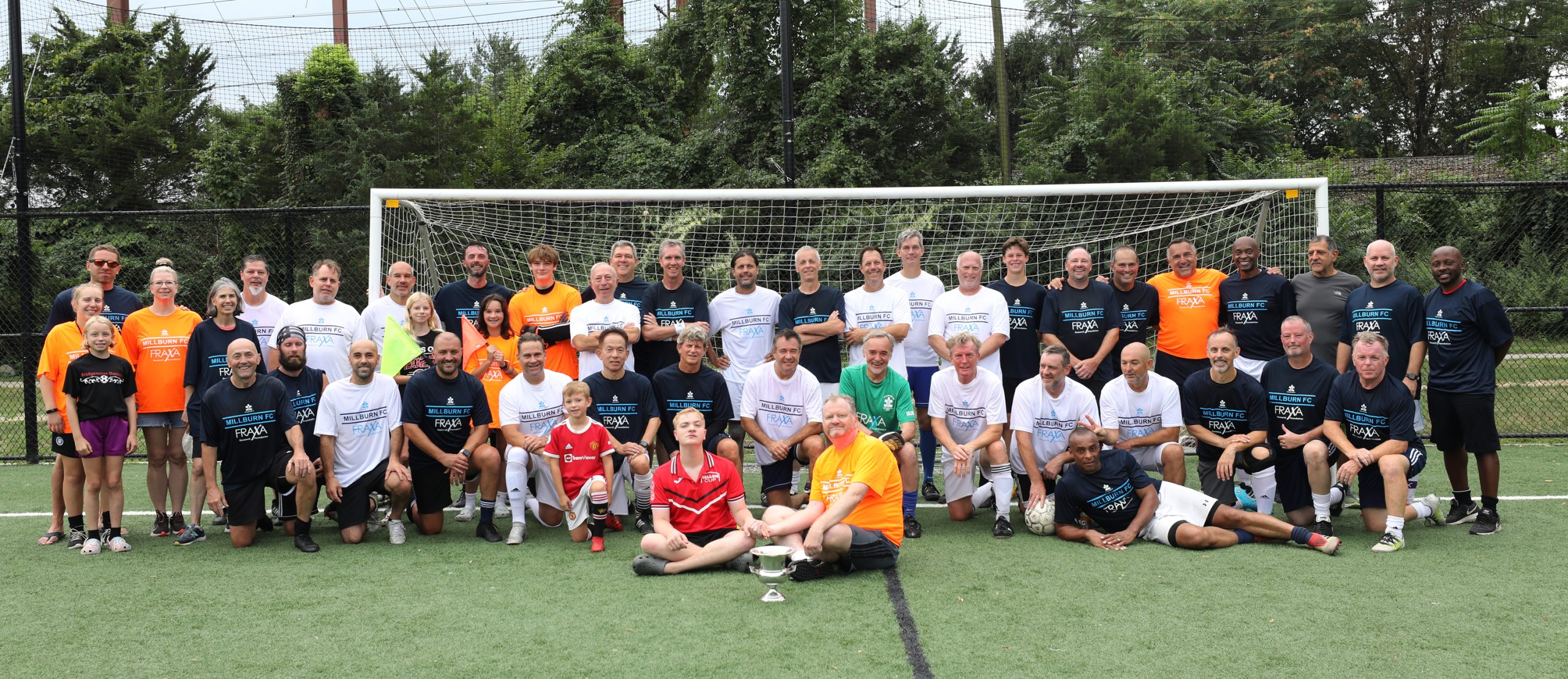 MILLBURN, NJ: The Callum Cup is back & as popular as ever! This annual intra-club charity match is the marquee event of the Millburn FC soccer calendar. The game was played in honor of Callum Murphy, the son of Andrew Murphy, one of the club's goalkeepers. After 7 years, the Callum Cup matches have raised $94,600 for Fragile X research.
Callum Murphy was diagnosed with Fragile X when he was 2. Now a senior at Bridgewater-Raritan High School in Bridgewater NJ, Callum is an extremely cool, laid back young man, who enjoys his iPad and trips to visit chickens throughout the length and breadth of the Garden State.
This year Callum's family, friends and the players of Millburn FC raised over $19,000 for FRAXA.
The match was, as usual, a hard-fought competitive match with the usual friendly overtones. Although statistically close, the Whites walked away with a lopsided 6-0 win.
The custom-made shirts for the past 2 Callum Cups were created by the great folks at Spectrum Designs of Long Island, NY. The company does stellar work and employs very talented, autistic individuals. Spectrum Designs also have an excellent social media presence, capable of promoting events, such as Callum Cup VI.
The post-match celebrations continued at one of Maplewood's friendliest Irish bars, St James's Gate Publick House. "The Gate" is the home of the Callum Cup, which can be seen on display, behind the bar, year-round.
The final task of the Callum Cup was to send out over 30 official jerseys to all those that donated to the cause. Each shirt was accompanied by a hand-written Thank You card from the star of the show, Callum Murphy.
Millburn FC look forward to Callum Cup VII and with it, the positive vibes, the funds & the hope that comes with such a great event.
Andrew Murphy and his wife, Amanda, have followed every development since discovering the world of Fragile X in 2007. In order to have as much knowledge as possible, they both attended the 13th International Fragile X Conference in Miami in 2012. It was a wonderful experience and the knowledge gained was invaluable. Moving forward, they both believe that the key for success is research and so, to that end, they will do all they can to help FRAXA in its noble mission.