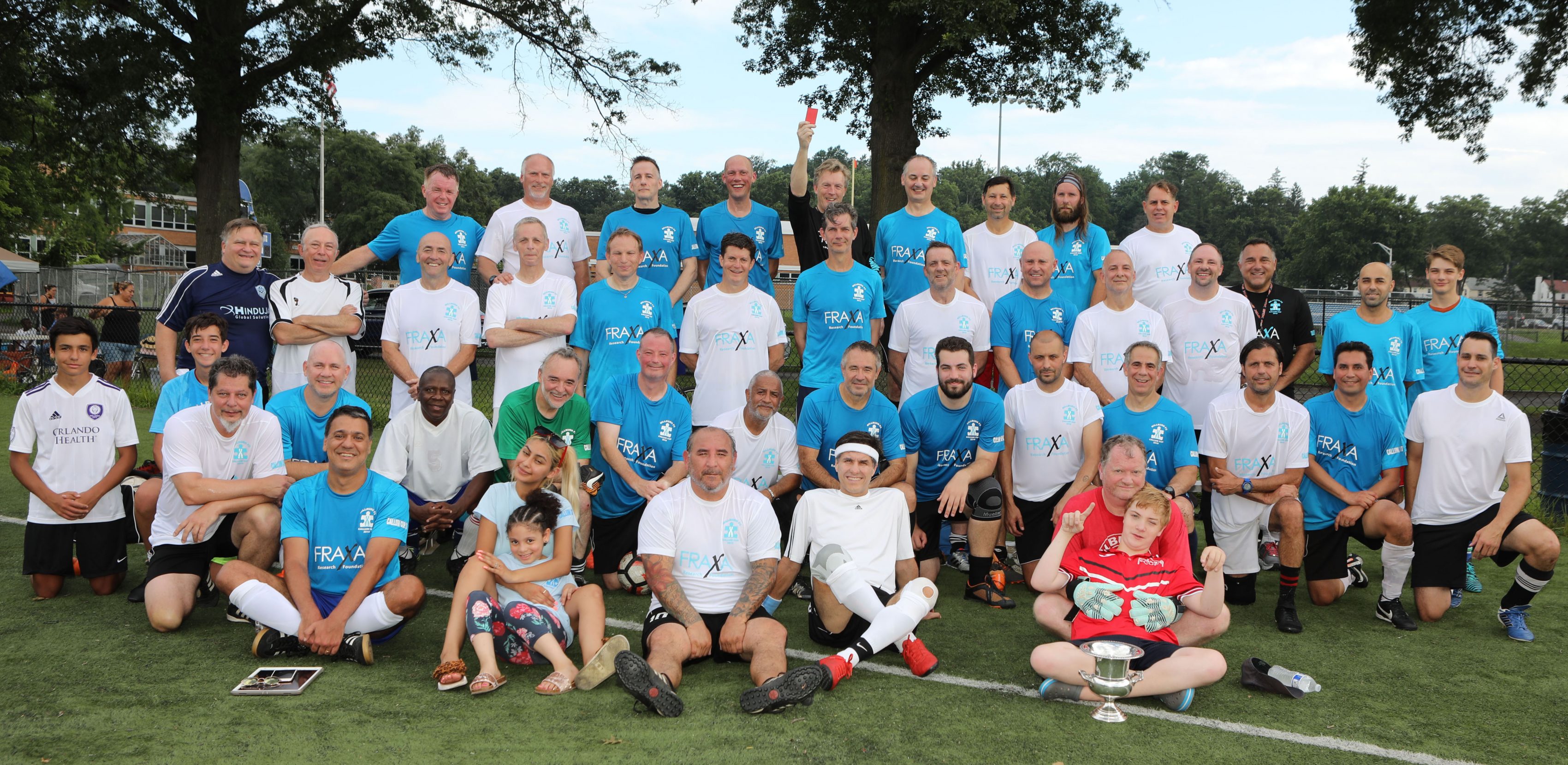 MILLBURN, NJ: July 2019 will go down as a great month for soccer. First, the US Women's team won the World Cup in France and two weeks later, it was the turn of Millburn Football Club to host their 4th annual Callum Cup.
This intra-club charity match (all proceeds being donated to FRAXA) has become the marquee event of the Millburn FC calendar, played in honor of Callum Murphy, the son of club goalkeeper, Andrew Murphy. Callum was diagnosed with Fragile X syndrome when he was 2 years old. He is also incredibly cute, loves chickens and is the perfect son for his parents.
This year, Callum's friends, family, and the players of Millburn FC outdid themselves and raised an incredible $19,285 for Fragile X research!
The big match was played on an incredibly hot July 21. So hot, in fact, that the kickoff was pushed back an hour to avoid the day's three digit temperatures. The match featured some very attractive open-field play resulting in a 11 goal thriller, ending 6-5 to the Blues. The game will also be remembered for its friendly tone. Boasting two referees, the 90 minute game had only one foul and even that was questionable. Equally attractive were the custom-made jerseys featuring the FRAXA logo, which every player received. After the final whistle, the good vibes continued at a fun post-match celebration at St James's Gate Pub in Maplewood, New Jersey. The pub serves as both the home of both Millburn FC and the Callum Cup, which is proudly displayed there throughout the season. In fact, it was in the bar, four years ago, over beers, that the idea of a charity match was first suggested.
Since the first match, back in 2016, the Callum Cup has raised a total of over $50,000 for Fragile X research.
Millburn FC looks forward to Callum Cup V and with it, the good feelings, the funds and the hope that come along with this great event.