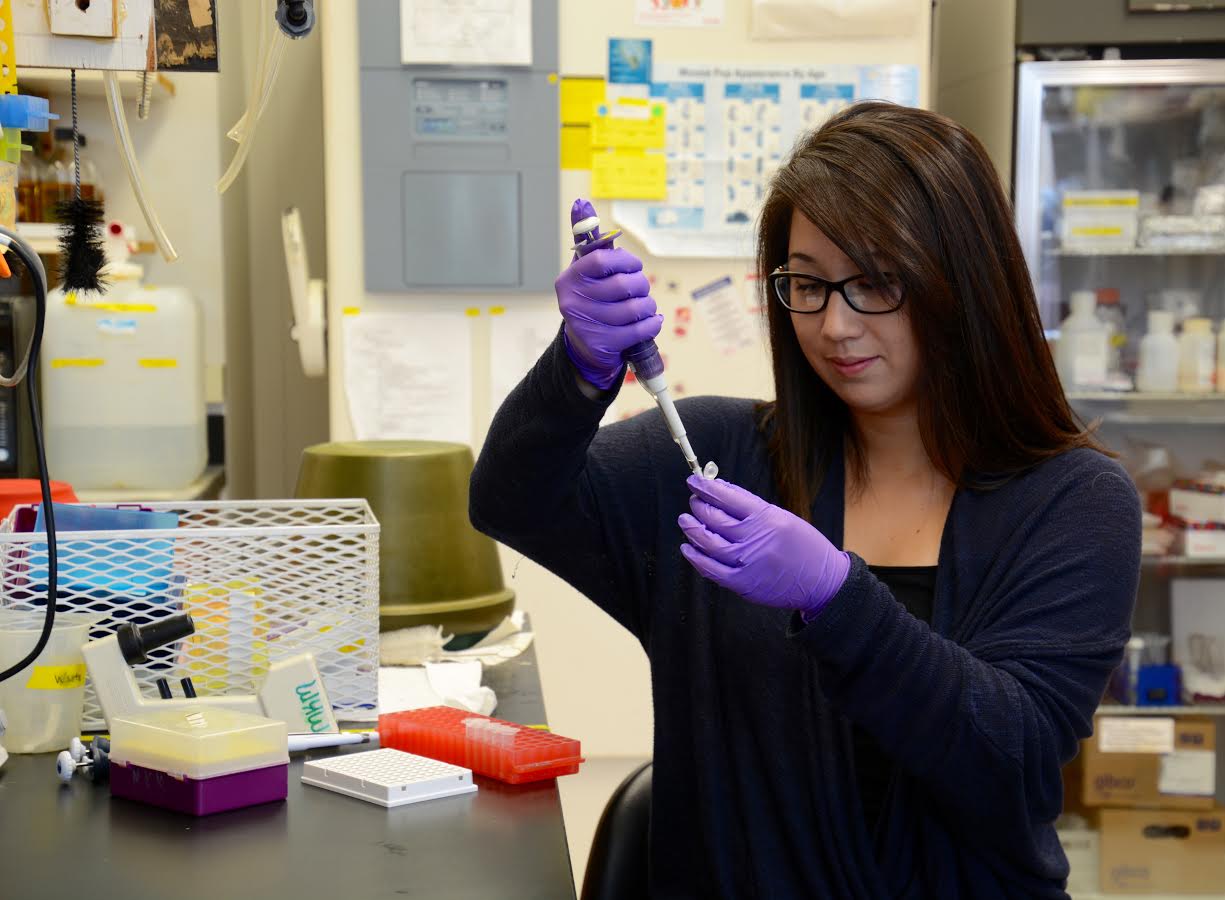 Johns Hopkins Researcher Christina Timmerman, PhD, Searches for a Less Subjective Method to Determine if a Drug is Working in Patients with Fragile X Syndrome
Many parents of children with Fragile X syndrome were crushed when promising drug trials were unexpectedly stopped a few years ago because subjective behavior-based outcome measures did not justify continuing the trials.
The strong feelings linger today.
If all goes well with Christina Timmerman's research, future drug trials may be able to continue with additional metrics for assessment, until there are advanced treatments or even a cure for Fragile X syndrome.
This will be welcome news to parents.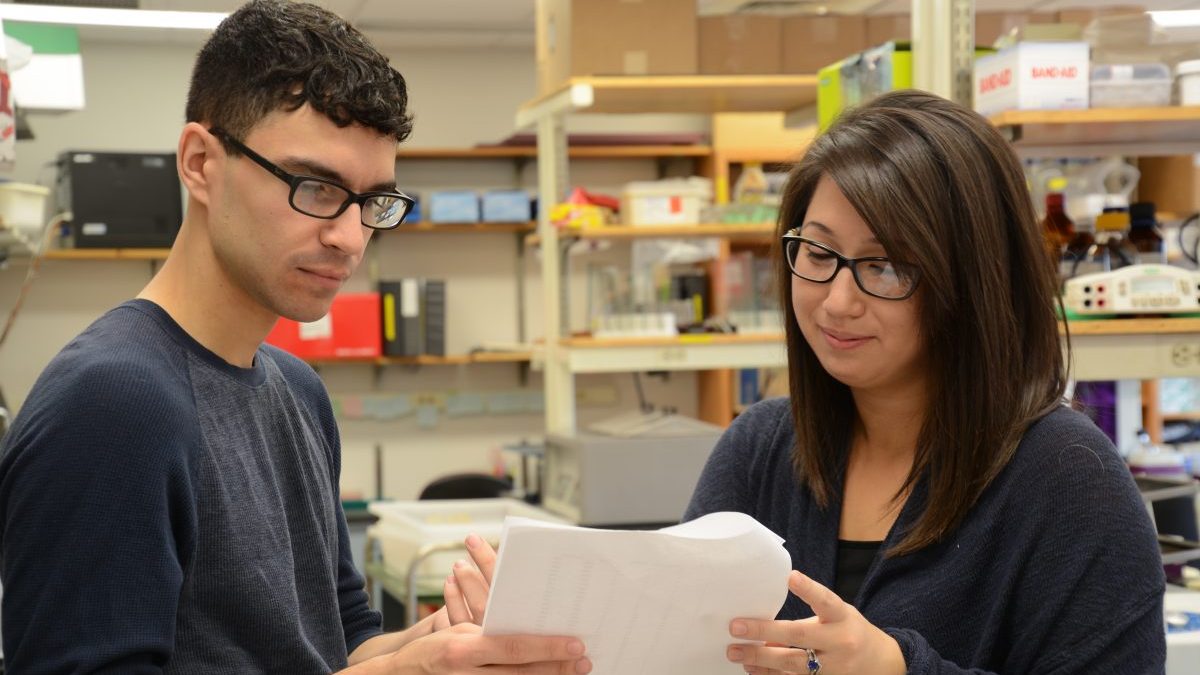 Timothy Gamache, graduate student, and Christina Timmerman, PhD
"We hope a more quantitative outcome measure, such as the proposed microRNA biomarker, would allow for a less subjective method to determine if a drug is working or not," said Dr. Timmerman, Postdoctoral Fellow, Lab of Mollie Meffert, Department of Biological Chemistry, Johns Hopkins School of Medicine. "Our research is aimed at discovering a potential microRNA blood-based biomarker that can be used as a clinical outcome measure for Fragile X syndrome."
Objective, Not Subjective
Currently, all Fragile X drug trials are behavior based and highly subjective. The ultimate goal of a Fragile X syndrome biomarker would be to provide an objective measure of drug treatments and other therapeutic interventions.
"With the discovery of a Fragile X syndrome biomarker, our hope is that this would have the potential to help identify whether a drug was having a therapeutic effect on a Fragile X syndrome patient," she said. "While studying the basic biology behind Fragile X syndrome in mouse models, we noticed the biochemical pathways we found to be dysregulated in the brain were also being dysregulated outside of the nervous system, specifically in the blood. We also knew microRNAs isolated from cell-free fractions, such as plasma and serum, are thought to be highly stable, which makes them attractive targets as biomarkers."
So, a simple blood test could be used to evaluate potential new treatments for Fragile X.
Let's Collaborate
Dr. Timmerman credits FRAXA funding with helping her connect her basic research to top-notch clinical research worldwide.
"FRAXA has helped us set up promising collaborations with clinicians, such as Dr. Elizabeth Berry Kravis and Dr. Francois Corbin, who work directly with patients with Fragile X syndrome, and this gives us an exciting chance to validate our biomarker in patients," she said. "While investigating mechanisms of gene expression, particularly post-transcriptional mechanisms such as those that work through microRNAs, we choose to extend our studies into a disease model. Based on our previous work, we hypothesized that our basic molecular mechanistic characterizations the brain would allow us insight to a disease state such as Fragile X syndrome."
Dr. Timmerman believes working in the Fragile X field has given her a deeper appreciation for the capacity of basic research to help patients and the families of those afflicted with Fragile X syndrome.
"It has guided our work into the biomarker project, as we hope this work might truly benefit patients with Fragile X in the future," she said.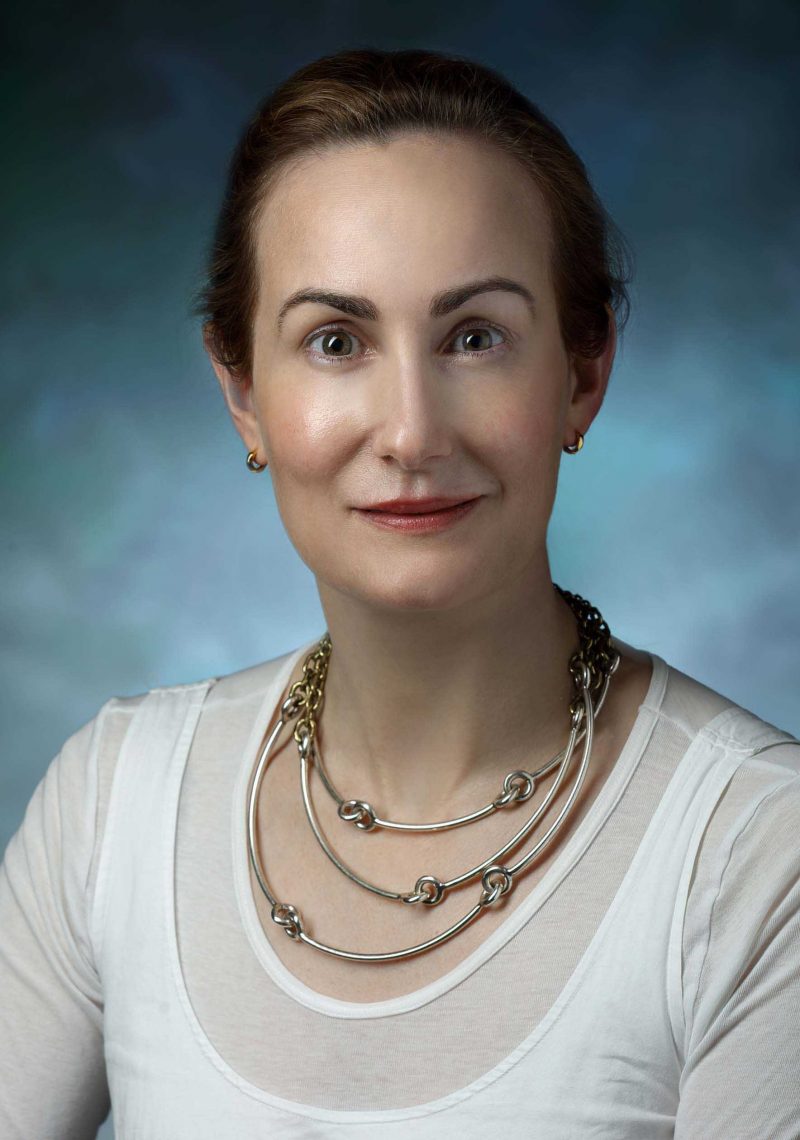 Mollie Meffert, MD, PhD Principal Investigator Johns Hopkins Univ.
MicroRNAs as Biomarkers in FXS
FRAXA Postdoctoral Fellowship
awarded to Christina Timmerman, PhD
with Mollie Meffert, PhD, Principal Investigator
Johns Hopkins University
Funded in May 2015
$90,000 over 2 years
The search for blood-based biomarkers in Fragile X has been a topic of intense interest in recent years, and is seen by many in the field as essential to the development of new treatments. While most of the effort has focused on measuring proteins which are increased or decreased in Fragile X, this project takes a very different approach. Dr. Mollie Meffert, Dr. Christina Timmerman, and colleagues are looking at groups of small RNAs, known as microRNAs, which are greatly decreased in the brains Fragile X mice vs. normal mice. MicroRNAs are also easily measurable in blood, making them attractive as candidate biomarkers.