We appreciate your support of FRAXA. In return, FRAXA assures you that all sensitive data and personal information involved in the online gift process is handled in a secure and private manner. We will not share or sell your information to anyone.
Giving online is easy, fast and secure! We will send you an acknowledgement by email. Make your gift in honor of someone special and we will send a gift card in your name.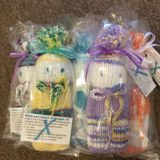 Shop at FRAXA's store to fund research for a cure. Buy wristbands, "X" magnets and pins, running shirts, t shirts, hand-made gifts. There is also free stuff.
Do you shop on Amazon? Here is an easy way for you to support FRAXA every time you shop, at no cost to you. You'll find the same prices and selection as on Amazon — and 0.5% of your purchase will go to FRAXA! Please go to smile.amazon.com every time you shop.
FRAXA gratefully accepts gifts of shares. Stocks can be wired to
StockCross, 77 Summer St, Boston, MA 02110. Phone: (800) 225-6196. DTC: 0445
Account Name: FRAXA Research Foundation. Number: 10880094
If you are interested in estate planning, we would be pleased to talk with you. Call Katie Clapp at (978) 462-1866 or email for details.

FRAXA is among the Best of the CFC! We are charity #10594. Please support FRAXA through the Combined Federal Campaign.

Look for us in your United Way campaign brochure or on your company's campaign website. If we are not listed, please write in FRAXA Research Foundation on your pledge card. Please include our IRS tax ID (04-3222167) and address (10 Prince Place, Suite 203, Newburyport, MA 01950).
V-Dac donations accepts any kind of vehicle: cars, trucks, motorcycles, RV's, boats, airplanes, heavy equipment, farm machinery, to benefit FRAXA.
Support FRAXA effortlessly, often—and for free! If you want first dibs on deals like Macy's Coupons, or love saving cash at stores like Kohl's, Kmart and Lowes, use Giving Assistant. As much as 30% of your purchase price at 1800+ popular retailers are turned into valuable donations to FRAXA.
You can also call us at 978-462-1866 or send your check payable to FRAXA o
FRAXA Research Foundation
10 Prince Place, Suite 203, Newburyport, MA 01950
Email Katie Clapp, Executive Director, at kclapp@fraxa.org