Patrick's PALS XXVII 3-on-3 Basketball Tournament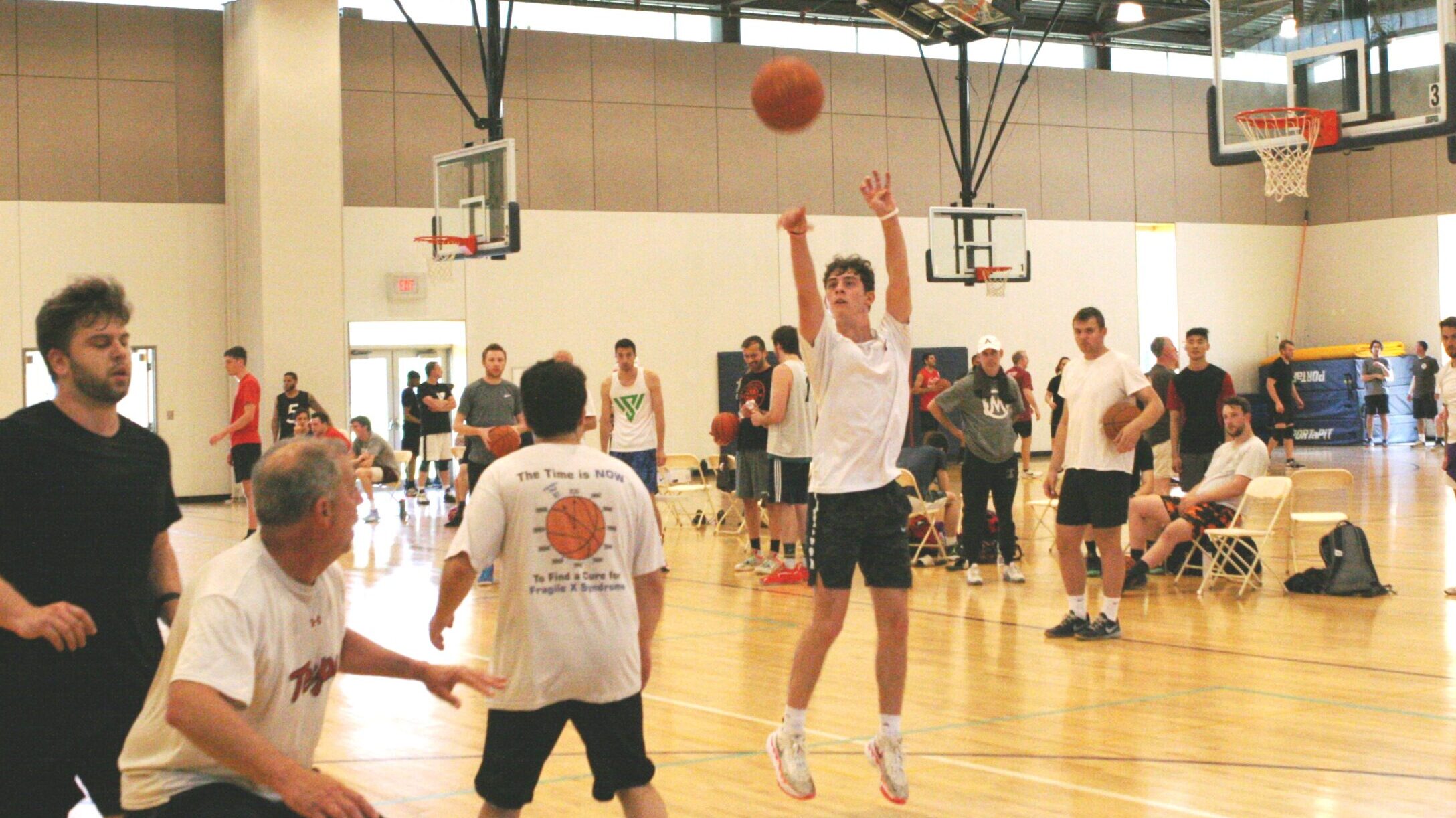 The Patrick's PALS XXVII Annual 3-on-3 Basketball Tournament is set to take place on Saturday, June 3, 2023, at the Dana Athletic Center in Waltham, which is a new venue for us. We're excited to be back for another year, and we're grateful to Bentley University for their support in hosting us at their facility.
The PALS Team, consisting of James & Pamela Vershbow, Jon Pressman, Bill Rome, Steve Savarese, Jim Marks, Scott Katz, Andrew Pressman, Peter Savarese, Dan Marks, and Steven Rome, is thrilled to be back for another year of fundraising and basketball. We look forward to renewing the friendships we've made over the past 26 years while supporting FRAXA Research Foundation's mission of finding effective treatments and ultimately a cure for Fragile X syndrome.
About Patrick's PALS 3-on-3 Basketball Tournament
Every year, Patrick's PALS 3-on-3 Basketball Tournament is held on the first Saturday after Memorial Day and accepts 32 teams. After the first round of the double elimination tournament, 16 teams are placed in a "winner's bracket" and 16 in a "loser's bracket." The following rounds establish two undefeated teams from the winner's bracket who compete to be one of the finalists. The losing team goes to the loser's bracket with a chance to play the one team that worked its way through the bracket. The two one-loss teams then play for the right to challenge the undefeated team in the championship round. If the undefeated team wins, they are crowned champions. If they lose, a second game is played to determine the winner of the trophy.
Each team in the tournament must consist of at least three players, but no more than five. The registration fee is $50 per player and includes breakfast, lunch, a gift bag of PALS goodies, and refreshments. During the tournament, there will be a silent auction with great items up for bidding. Attendees can also purchase raffle tickets for a chance to win tickets to games for the Celtics, Bruins, Patriots, or Red Sox.
Two basketball-related contests will take place during the event. The first is a half-court shot contest where winners can choose from a variety of PALS swag items. The second is a 3-point shot contest with a $20 entry fee, and the winner will take home half the pot!
The sign-in for the Patrick's PALS 3-on-3 Basketball Tournament will begin at 8:00 am on Saturday, June 3, 2023, at Bentley's Dana Athletic Center on the campus of Bentley University. The courts will be available for warm-up before the opening ceremonies at 9:00 am. Breakfast will be provided, including coffee, bagels, and donuts. Four half courts will be in constant use, and games will be played until we break for lunch and the basketball contests around noon. Typically, a champion will be crowned or the championship round will be played by 3:00 pm.
Register/Learn more about Patrick's PALS
To register or learn more about this year's Patrick's PALS 3-on-3 Basketball Tournament and Fundraiser, please contact PALS Director James Vershbow at (617) 599-2641 or email patricks.pals@comcast.net.
Thank you to family, friends, volunteers, sponsors, participants and donors, for your support and participation since 1997!!