In 2013, FRAXA funded a postdoctoral fellowship for Dr. Qionger He in the laboratory of Dr. Anis Contractor, at Northwestern University, and already the team has produced results.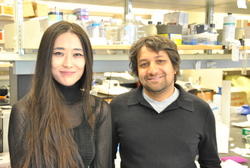 Using fragile X mouse models, the Contractor lab was able to identify immature neurons  that resulted from a shift in the maturation of the neurotransmitter GABA.
Northwestern Medicine scientists have identified events that may contribute to delayed synaptic and neuronal development in fragile X syndrome, the most common known cause of autism.
The team discovered that the normal maturation of the neurotransmitter GABA is delayed in fragile X mice. This delay may prevent the proper development of cells within the brain's cortex.
The findings were published Jan. 8 in the Journal of Neuroscience.
Article by by Roger Anderson:  Scientists Focus on Synaptic Development in Fragile X Syndrome: Feinberg School of Medicine: Northwestern University