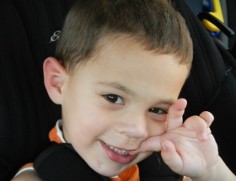 Mason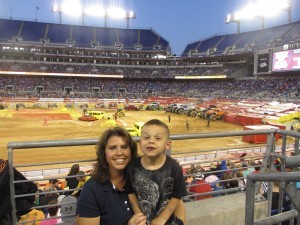 Corry with Charlie
Recently we learned that both Charlie and Mason have Fragile X.
We have learned to accept and be grateful for a different way of life, given both Charlie and Mason have some developmental delays. Despite the challenges they both face, they are both happy, fun-loving little boys and they are both making steady gains. Mason receives services from birth to three and Charlie is attending kindergarten with special education services for reading and math along with PT, OT, and ST. He is otherwise mainstreamed into a regular class! Potty training is a challenge for fragile X children and we are continuing to work on this with our boys.
There is a large variance of intellectual abilities and other associated symptoms, in Fragile X. While Charlie has a mosaic form of Fragile X, meaning there are some cells that do not have the full gene mutation, Mason has a full mutation in all of his cells.
We hope to share our story, raise awareness, and share our inspiration. While we are exploring research options, we continue to work with both boys on their development. We are lucky to have a large network of support through family, friends, specialists, and FRAXA. We appreciate the care and concern and continue to pray for further research that could give not only Charlie and Mason hope for living an independent life in the future, but lots of other children affected by fragile X and spectrum disorders.
Thank you for reading our story!
– Corry and Jeremy Miller
Donate in honor of the Millers