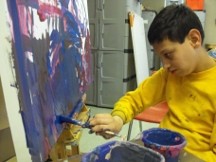 My son Alex is almost 18 years old and has Fragile X Syndrome. I never thought that I would put my son on an experimental drug. I figured I'd wait until it came to market and be sure it was "safe". My son was not going to be a lab rat.
Almost two years ago, Alex became seriously ill from the medications he was taking. These were tried and true, "safe" non-experimental medications, and they nearly killed him. We needed to find a safer alternative – and quickly. After much thought and many discussions, we decided that the trial of AFQ056 from Novartis was our best option. At the time, the closest site was Rush University Medical Center in Chicago.
To say I was afraid is the understatement of the year. But Alex had no quality of life. His anxiety level, even on meds, was through the roof! He was aggressive, sometimes hurting me. He was getting big and this aggression we had faced throughout his life was becoming an extremely serious problem. I feared that my only choice was going to be to put in a group home, and I did not want to do that.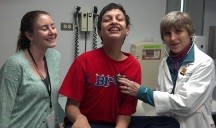 We live in Buffalo, NY, and Dr. Berry-Kravis's study is in Chicago — a 9 1/2 hour drive. I work full time so this was no small undertaking. During the first few months, Alex's meltdowns at Rush University and on the drive were pretty severe. Now I can say it was worth every single bit of effort! Dr. Berry-Kravis and Crystal have been wonderful when we go to Chicago and do all they can to make the process easier.
Alex has finished the 4-month trial and has been on the medication, AFQ056 from Novartis, for well over a year. It has had a profound effect on Alex and on our family life. His anxiety level, which had always been extremely high, is going down. The longer he is on the medication, the more relaxed he is becoming. He began participating in activities that he would not join in before, is more willing to try new things and even to taste new foods. His sentences are longer and clearer and it is obvious to all of us involved with Alex that he is much better able to process things and comprehend them.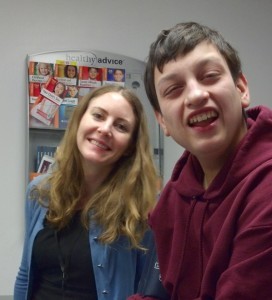 The aggression is almost gone! He hasn't hit me in months. This medication is making it possible for me to keep my son at home!
Over time, I have watched Alex go from a child who could barely tolerate trips to Chicago, to one who occupies his time on the trip with the help of snacks and an ipad. He is able to remain engaged in activities on the ipad, a feat that would have been impossible before. I can see in his face – and others have commented on it as well – that Alex is much happier than he used to be.
On one trip to Chicago, my niece came along and she wanted to go to the Willis Tower. I was very hesitant because I knew it would be chaotic and crowded, since it is a major Chicago attraction. I was afraid of how Alex would react; this type of situation had always been a guaranteed failure. Not wanting to disappoint my niece, I decided we'd give it a try. The people at the Willis Tower were helpful in reducing waiting times for Alex, and he made it to the top of the tower without incident. When we stepped off the elevator and I saw that the walls were all glass, I had no idea how Alex would respond. He took one look and bolted right over to the glass to look. He loved it! I stood in amazement as I watched my son walk from window to window, enjoying himself. When we were done he wanted to go to the gift shop to buy a gift for his favorite staff at school and even picked it out himself.
When we exited the Tower I just looked at my niece and burst into tears. I couldn't believe that we had just had such success. I was so proud of Alex I thought I would burst. Before the Novartis trial of AFQ056, this would have been impossible. It means so much to have been able to experience the Willis Tower with my son. Whenever I think of it, I get caught between tears and speechless. It's the ONLY truly normal thing we have done since he was 2 years old. I will never forget it.
These may seem like small things to the outside observer, but for families like ours they are enormous. Anytime that we can have a typical family moment or outing, it is a major event for us. I am so thankful that Alex is in this trial and is having the opportunity to enjoy so many things that he could never have enjoyed before.
Although we have always had a pet, Alex has developed his first ever bond with a pet! He asked for a black cat named Harry Potter. This was very surprising to us! He had never showed much interest in them, so knowing that this was significant, we got Alex his cat. Yesterday the cat hopped up on the table and walked up to him. Alex leaned forward and they touched noses and held that pose for a few seconds. It was a completely calm sweet interaction between them. If I hadn't see it, I wouldn't have believed it! Even as I write these words, my eyes fill with tears of joy that my son is finding joy in life and in his pet. It's truly amazing! I doubt I will ever forget that moment between them.
The most important thing that this clinical trial has done for us is that for the first time in his life, Alex is happy.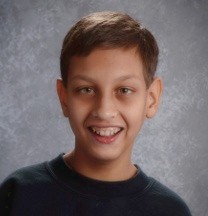 How happy can anyone really be who is living with constant extreme anxiety? It had to be terrible for him. By reducing his anxiety this medication has given Alex a quality of life that I could only have wished for him in the past. To be honest, this medication works better than I dared to hope that it could. No, it isn't a cure, but now I can say with certainty that my son is happy and healthy. What is more important than that? I wouldn't hesitate to participate in a trial again. This has changed our lives in only wonderful ways and has allowed me to truly enjoy my son.
– Lisa Kowal