Speeding up the Drug Development Pipeline​ with FRAX-DVI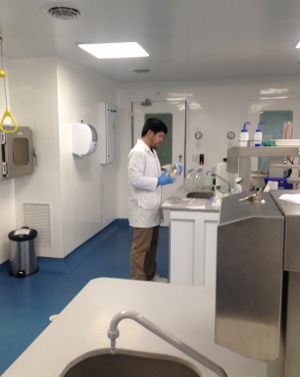 FRAXA funds a highly productive Drug Validation Initiative (FRAX-DVI) headed by Dr. Patricia Cogram in Santiago, Chile. Pharmaceutical companies developing medicines for central nervous system disorders (like Alzheimers, epilepsy, or depression) sometimes find evidence suggesting that their compounds might treat Fragile X. They often contact FRAXA Research Foundation to discuss next steps.
We can arrange to send promising compounds down to Chile for further study. For the ones that pass muster, the next step is clinical trials! In fact, FRAX-DVI has already led to two clinical trials in Fragile X, from Neuren and Alcobra, with several more in the pipeline.
Report from Chile and Argentina
Recent exciting developments in Fragile X research in South America prompted a visit by Dr. Michael Tranfaglia, FRAXA's Medical Director and Chief Scientific Officer.
First, Dr. Cogram has moved from the University of Chile to a new, state-of-the-art facility at Fraunhofer Chile, a division of Fraunhofer-Gesellschaft, a major German research foundation. This impressive lab is an important new asset in the search for improved treatment for Fragile X. This is where Dr. Cogram's team tests new therapeutics and potential biomarkers to be used in clinical trials. We were invited to visit the new facilities to see where so much important preclinical validation is being done.
Equally important is the budding research collaborative forming between scientists in Chile and Argentina. Since Buenos Aires is a major population center and has already served as a trial site for recent Fragile X clinical trials, Dr. Cogram has connected with clinicians in Argentina, increasing access to research subjects.
Argentina has stunning new clinical research facilities as well as highly skilled clinicians like Dr. Paulina Carullo at the
FLENI Foundation
, who runs one of the largest Fragile X clinics in South America. Dr. Tranfaglia and Dr. Cogram spent several days in Buenos Aires meeting with Fragile X and autism researchers from universities in the area.
Surely, there is an emerging Fragile X research powerhouse in South America!