Zynerba-RECONNECT Study: Understanding the Clinical Trial Experience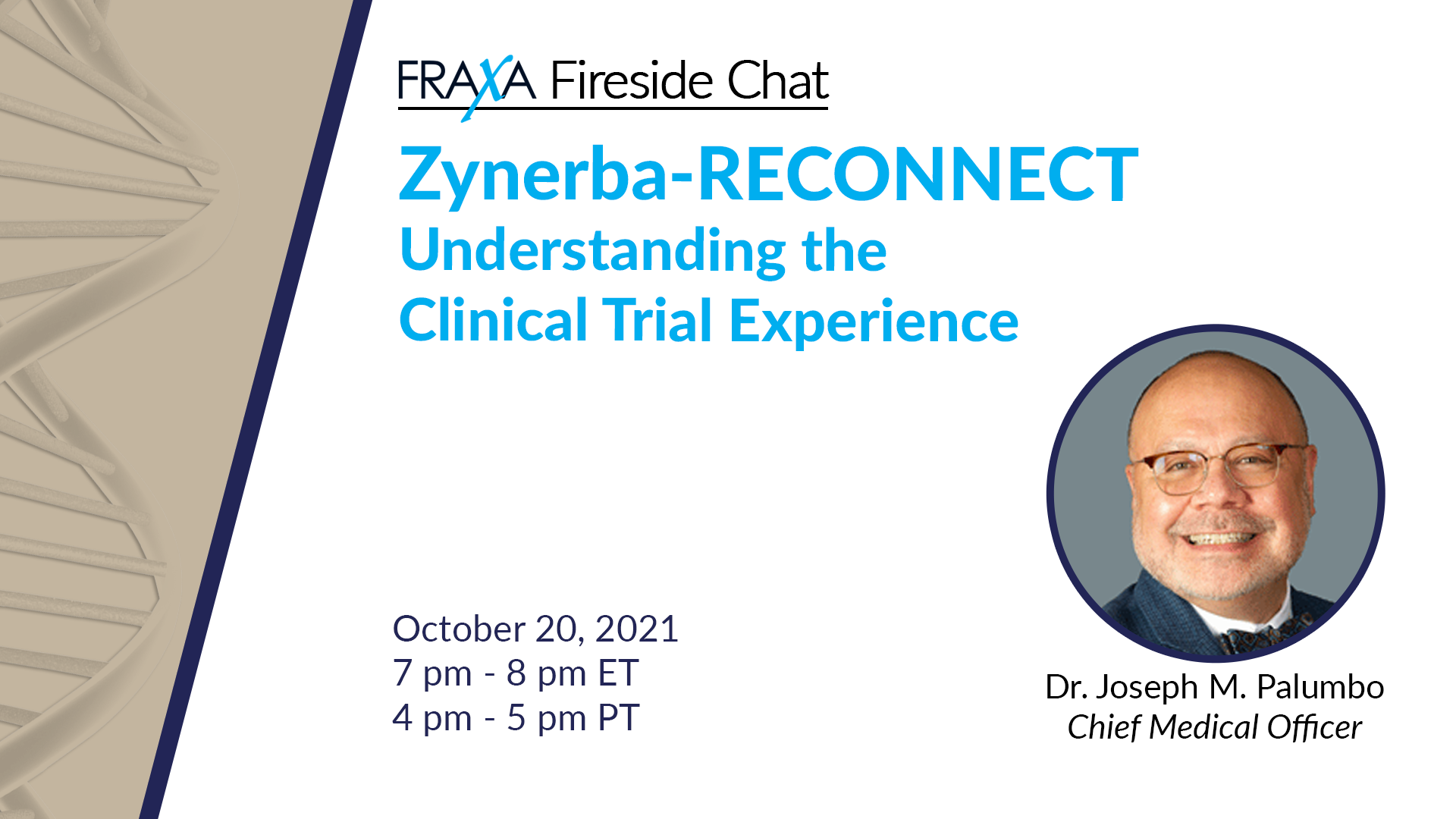 Time
ET
7:00 pm
Cost
FREE
FRAXA Fireside Chat
Join FRAXA and Dr. Joseph M. Palumbo, Chief Medical Officer at Zynerba Pharmaceuticals, as he shares insight into their RECONNECT Study. Attendees will have the opportunity to ask questions about the clinical trial experience and what to expect each step of the way.
About the Speaker
Joseph M. Palumbo, MD, LFAPA, MACPsych
Chief Medical Officer
Zynerba Pharmaceuticals
Dr. Joseph M. Palumbo has been Zynerba's Chief Medical Officer since July 2019. Prior to joining Zynerba, he served Mitsubishi Tanabe as both Vice President, US Medical Science and Translational Research and Fellow – Medical Science for the Japanese parent company. He initially joined the company in 2012 as Vice President, Clinical Research and Development. Prior to Mitsubishi Tanabe, he served Johnson & Johnson as Global Head and Franchise Medical Leader, Psychiatry in the Neuroscience Therapeutic Area. Dr. Palumbo previously held industry positions with Sanofi-Synthelabo, Cephalon and CRO Pharmanet, Inc. and senior leadership roles at academic research institutions including Yale, Cornell, and the University of Pennsylvania. He has been instrumental in driving trial methodology strategies, implementation, and measurement in areas of research including neurology and neuro-degeneration, psychiatry and behavioral medicine, cognition, orphan conditions, addiction, and subjective endpoint assessment. Dr. Palumbo has worked with global regulatory agencies leading to the approval of therapeutics including Radicava® (edaravone), Risperdal® (risperidone), Concerta® (methylphenidate HCL) and Invega® (paliperidone). He completed his Bachelor of Arts at the University of Pennsylvania and his Doctor of Medicine at the George Washington University School of Medicine. He was a Biological Sciences Training Program Fellow of the National Institutes of Health and Chief Resident for the Abraham Ribicoff Clinical Neuroscience Research Unit at Yale University. Dr. Palumbo is Board Certified in Psychiatry.
Register for the Fireside Chat
Registration for this seminar has closed.