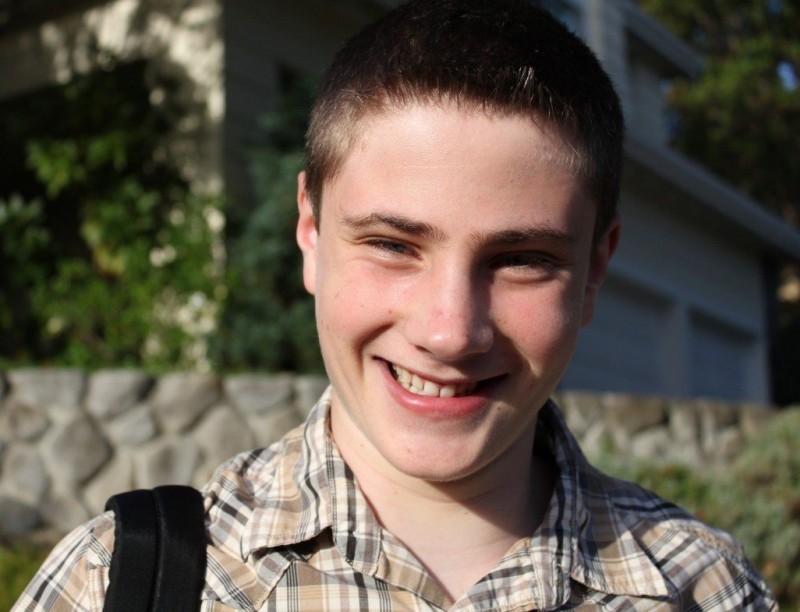 We hope this year's annual update and appeal finds you well.
From all outward appearances, our son Lucas is a normal seventeen-year-old young man. Most people don't recognize him as being disabled until they see him acting inappropriately. Lucas suffers from severely limited intellectual ability, which impacts his ability to think, reason and learn. He has significant trouble communicating and also suffers from extreme anxiety if his daily routine gets disrupted in any way.
Most of you are likely familiar with the movie "Rain Man", and this is actually a great example of what it's like living with Lucas. His days revolve around what comes next, but especially his meals. He's obsessed with restaurants and constantly tries to negotiate his next meal out. Throughout each and every day, he is constantly asking, "What's for breakfast, what's for lunch, what's for dinner?" Although we are thrilled that he can express himself this way, it does tend to drive us all crazy.
Lucas requires constant supervision when it comes to food consumption; he simply doesn't have an off switch. If we indulge him and let him eat all he wants, it usually doesn't end well. One incident while visiting grandma's house ended with him attempting to wallpaper the bathroom in a nice chips-and-salsa explosion from our favorite Mexican food restaurant (this year's TMI moment now done).
Lucas also doesn't understand the concept of a "choice". If we present him with two items and ask him to choose which one he wants, he always gets extremely frustrated and doesn't understand why he can't have "both".
But the most frustrating times are the circumstances we don't understand. Sometimes things just don't go the right way and Lucas gets spun-up into a crying tantrum, usually in public places. This always turns lots of heads since few boys of his age cry openly in public.
We continue our ongoing battle to help Lucas learn the skills he'll need to survive in this world. Our school district struggles to provide adequate courses to help him. While some schools in other districts offer courses in meal preparation, safety, social development, and community involvement, Lucas was placed in digital photography & speed walking this year.
We know that Lucas will likely live with us for the rest of his life, but we worry about what he will do with his days after he's too old for school. His only preferred activity is to perseverate over his child-age DVDs, constantly rewinding and playing scenes that capture some strange interest for him that we'll never truly understand. He still needs assistance with grooming, gets hysterical over visiting doctors or dentists, can't tolerate a Band-Aid or anything stuck to his skin, can't appropriately use a telephone, nor can he express his feelings in any way other than laughing or crying.
Through all of our challenges, there are still many blessings. We all have our favorite phrases that we call Lukie-isms. If any of us are away from Lucas for an extended time period, we miss him terribly and are reminded of his innocence, especially when we repeat our Lukie-isms. Some examples; Lucas' way of saying "No Thank You" is simply "No Q". And when we ask him to say thank you to someone, the response is almost always the full dialogue of "Thank you your welcome". If there is something he really doesn't want, it's not just a simple no, it's usually an elongated "nooooooooooo" while he shakes his head dramatically from side-to-side. We love these little reminders of our little-buddy.
We again would like to thank you, the very few supporters of Fragile X Syndrome. So little is being done to find a cure for this disease and your donations make a huge difference.
We were so close last year with the potential for seeing the first effective medications come to market, but unfortunately they didn't make it all the way to our medicine cabinet. FRAXA is not going to give up. There are more research grant proposals available, any one of which could be the cure for Fragile X. Our hopes are with you to help fund these grants, and provide relief to the many families like ours suffering with the challenges of our special kids. With sincere gratitude, please consider making a donation in Lucas' honor to help him and other children suffering with Fragile X Syndrome.
Love & blessings,
The Clarks
Thank you to our Donors!
PLATINUM ($1,000+)
Dwight Davis
Thomas and Linda Leonard
GOLD ($250+)
Dean and Stef Clark
Julie Adams
Paul Byrne
Tish and Jon Bohane
Gary and Jacque Lovett
BRONZE
Thomas and Carmen Nokes
Garry and Chris Samuels
Don George
Robert and Jeanne Shiells
Jay and Lois Hanna
Thomas and Ginger Marckwardt
John and Linda Fosseen
Michael and Kristin Shadduck
Paul and Jackie Harris
Shirley and Dennis Fuller (Fulpro)
BRONZE
VMware Foundation
Ted Ohr
Julie and Rich DeBorba
Hans Bernhardt
Joseph Maloney
Roger and Jill Stager
Tony and Kathy Borba
Robert Goodrich, II
Sharon and John Ewell
Shari and Kevin Sigl
Sean and Stefanie Baker
Agnes O'Neill